Deep sequencing of RSV from an adult challenge study and from naturally infected infants reveals heterogeneous diversification dynamics
Text by Yonatan H. Grad
Respiratory virus infections are extremely common and can result in severe disease in at-risk populations. How do individuals fight off these infections? Clues to the nature of the immune response may come from the study of how the viruses evolve over the course of individual infections. To address this, we sequenced viral populations sampled longitudinally from healthy adults experimentally infected with respiratory syncytial virus (RSV) and from naturally RSV-infected infants. Our findings suggest our immune systems defend against RSV infection in multiple ways that may depend on age and prior immune exposure.
In a previous paper, we teamed up with John DeVincenzo and his group and colleagues at the Broad Institute to characterize RSV diversity in an infant with severe combined immune deficiency before and after successful immune reconstitution through hematopoietic stem cell transplantation. We learned that viral diversity increased in the presence of adaptive immunity. While that case presented a unique opportunity to study the impact of adaptive immune pressure, we wanted to know what happened in RSV infections in humans with normal immune responses.
Together with the same team, we studied samples from two remarkable collections of specimens: (1) healthy adults experimentally infected with RSV—all of these adults had seen RSV before, and so likely had some kind of pre-existing immune response; and (2) naturally infected infants experiencing their first RSV infections. We quantified the amount of virus present at each time point and used deep-sequencing methods to describe viral diversity, what parts of the genome changed, and how these changes varied over the course of each individual infection.
To our surprise, we saw that, in adults who quickly control the infection, viral diversification peaked at day 3 post-infection and appeared overrepresented in two genes distinct from those usually proposed as vaccine targets, whereas for two adults with longer lasting infections, viral diversity appears in sites to which RSV-specific T and B cells were previously know to respond. This likely reflects the timing of activity of different immune clearance mechanisms. We also learned that viral diversity is greater in the healthy adults compared to naturally infected infants who were immunologically naïve to RSV, again suggesting distinct mechanisms of response to RSV infections.
Future studies that directly link host immune responses with within-host viral diversification will be incredibly useful for understanding how immune mechanisms shape the circulating diversity of RNA viruses in general and RSV in particular.
Figure legend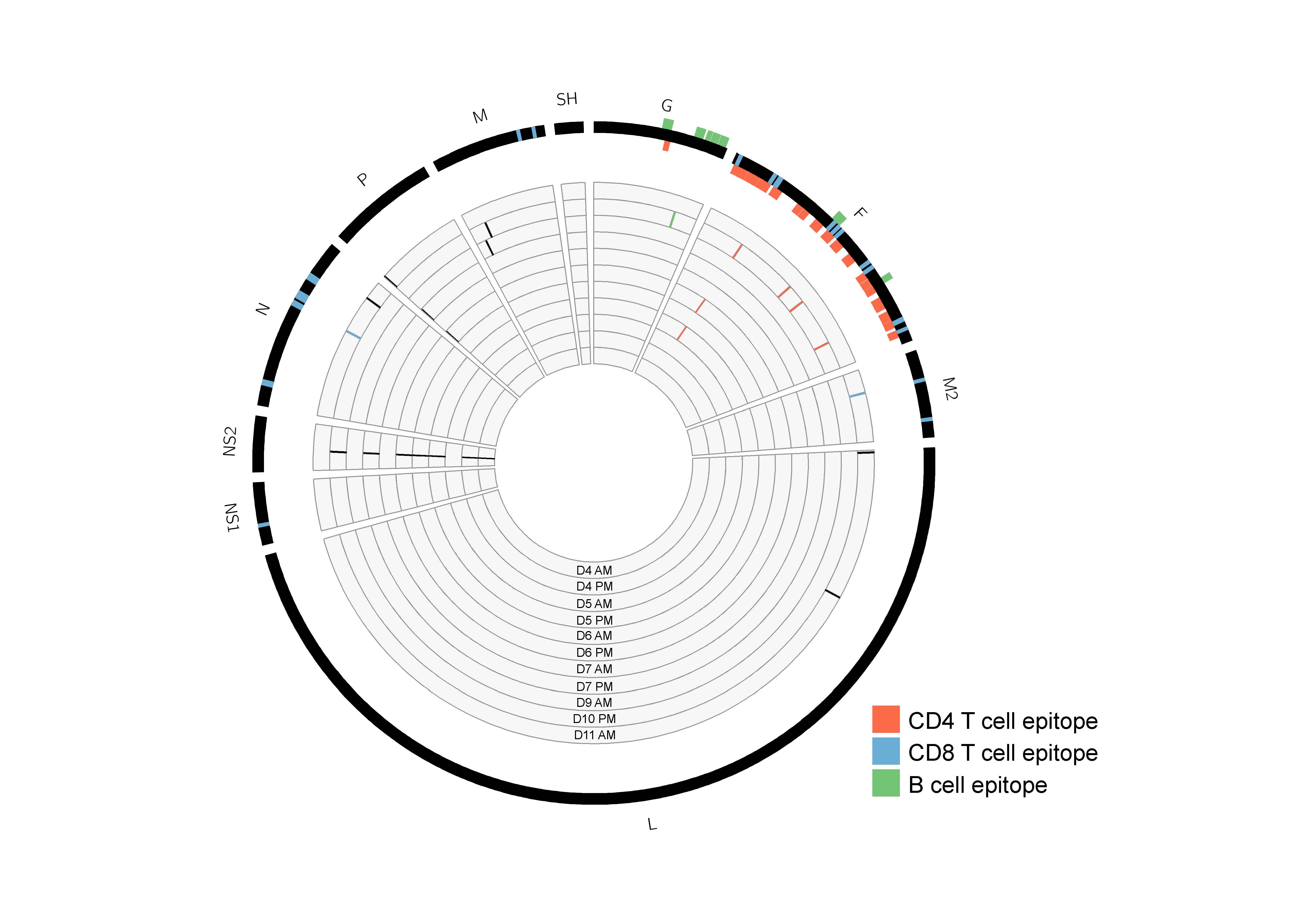 Analysis of results for a study subject in the adult experimental infection cohort with a circos plot of locations of variant sites. The innermost circle represents the earliest time point with deep sequencing data and evaluation of diversity, with surrounding circles incrementing by time points with diversity data. The outermost circle represents the RSV-A genome, with known and predicted epitope sites identified (orange=CD4 T cell epitopes; blue=CD8 T cell epitopes; green=B cell epitopes).
Introducing the author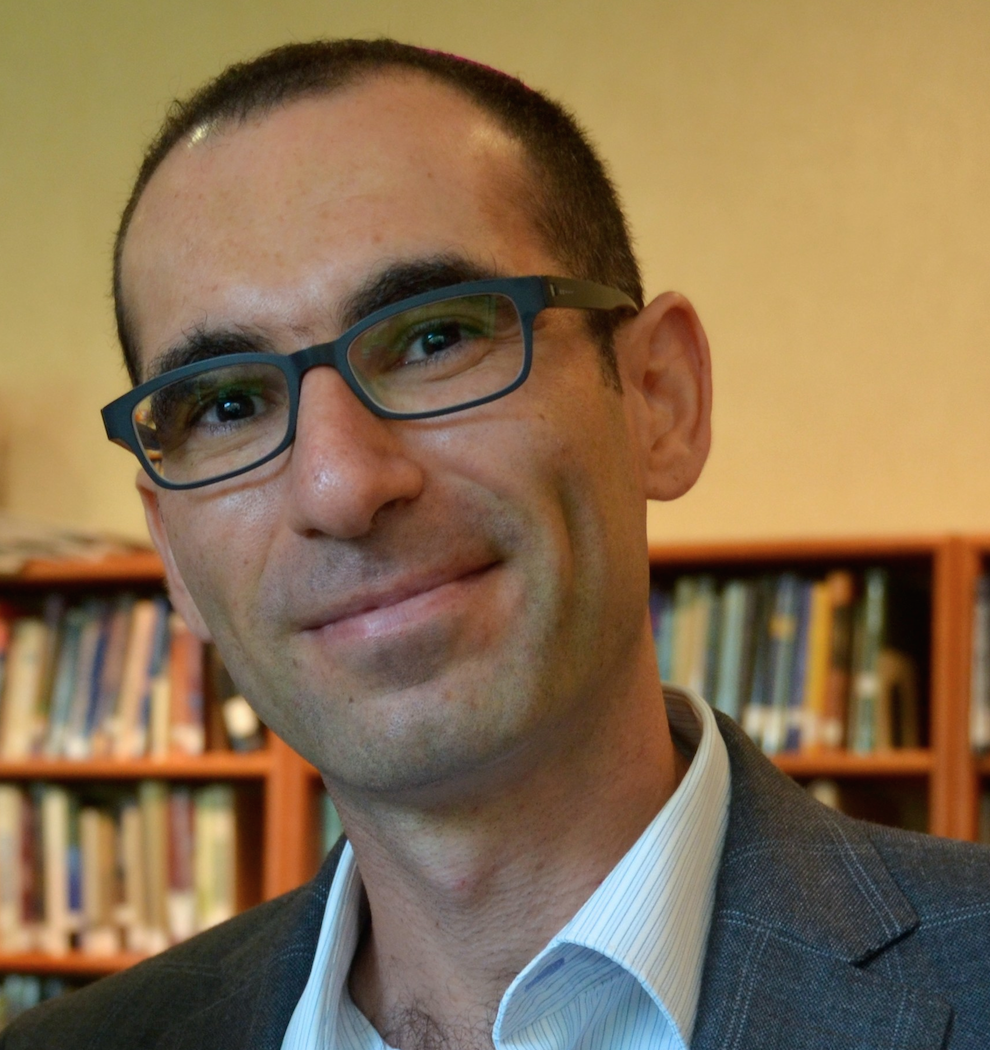 Yonatan H. Grad, M.D., Ph.D. is Assistant Professor of Immunology and Infectious Diseases at Harvard TH Chan School of Public Health, and Division of Infectious Diseases, Brigham and Women's Hospital, Harvard Medical School, Boston, USA. Visit his lab website.
About the research
Deep sequencing of RSV from an adult challenge study and from naturally infected infants reveals heterogeneous diversification dynamics
Jessica W. Lau, Young-In Kim, Ryan Murphy, Ruchi Newman, Xiao Yang, Michael Zody, John DeVincenzo, Yonatan H. Grad
Virology, Volume 510, October 2017, Pages 289-296, open access