Genomic analysis of filoviruses associated with four viral hemorrhagic fever outbreaks in Uganda and the Democratic Republic of the Congo in 2012
Read the full article on ScienceDirect.
Ebola virus, Sudan virus (SUDV), Taï Forest virus, Bundibugyo virus (BDBV), Marburg virus (MARV) and Ravn virus, cause Ebola and Marburg viral hemorrhagic fevers (VHFs) with high case-fatality in equatorial Africa. In 2010, a VHF surveillance program was established in Uganda by the Centers for Disease Control and Prevention, Uganda Virus Research Institute and Uganda Ministry of Health. In 2012, an unprecedented number of four distinct, Ebola and Marburg VHF outbreaks were detected in Uganda and in eastern Democratic Republic of Congo (DRC).
Initial molecular or immunological diagnosis of marburg- and ebolaviruses was performed by the VHF laboratory in Entebbe, Uganda. The majority of these outbreaks were quickly controlled thanks to the rapid local and international response, including outbreak investigation, patient isolation, contact tracing, and performing in-country diagnostics with short turn-around times. Complete viral genome sequences were obtained from clinical samples (fatal and nonfatal cases).
Phylogenetic analysis confirmed the reemergence of SUDV and MARV in Uganda, and the first emergence of BDBV in DRC. Furthermore, the analysis revealed that both SUDV outbreaks were independent events. Very high sequence identity among marburgviruses from Kabale and Ibanda districts suggests that these cases were part of the same human-to-human transmission chain.
The high sequence identity between the human marburgvirus isolates and virus isolates from Rousettus aegyptiacus bats (a natural reservoir for marburgviruses) captured in Python Cave, Uganda in 2008 and 2009, strongly indicates that visiting bat-inhabited caves in this part of the world represents a risk for human infection and initiation of outbreaks.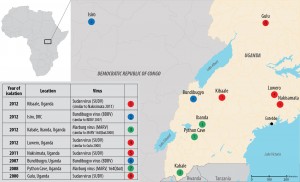 Introducing the author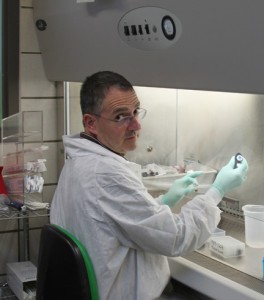 César Albariño, PhD
Viral Special Pathogens Branch, Centers for Disease Control and Prevention
About the research
Genomic analysis of filoviruses associated with four viral hemorrhagic fever outbreaks in Uganda and the Democratic Republic of the Congo in 2012
Virology, Volume 442, Issue 2, 1 August 2013, Pages 97-100
C.G. Albariño, T. Shoemaker, M.L. Khristova, J.F. Wamala, J.J. Muyembe, S. Balinandi, A. Tumusiime, S. Campbell, D. Cannon, A. Gibbons, E. Bergeron, B. Bird, K. Dodd, C. Spiropoulou, B.R Erickson, L. Guerrero, B. Knust, S.T. Nichol, P.E. Rollin, U. Ströher