Solenopsis invicta virus 3: Pathogenesis and stage specificity in red imported fire ants
Read the full article on ScienceDirect.
Solenopsis invicta virus 3 (SINV-3) is an unclassified plus-strand RNA virus with features suggesting a distant relationship to members of the family Caliciviridae. The virus is specific for the red imported fire ant, Solenopsis invicta Buren. Purified preparations of SINV-3 were fed to colonies of the red imported fire ant in a sucrose bait. Progression of virus development and its effect on the ant colonies were monitored for about 30 days after infection in adult (workers) and larval (3rd-4th instars) stages. Brood ratings (quantity of immature stages) declined significantly in SINV-3-infected fire ant colonies indicating immature stage mortality and/or reductions in queen fecundity. These results confirmed that SINV-3 was the etiologic agent responsible for colony mortality and collapse that had been observed in fire ant colonies previously. Surprisingly, the data indicated that SINV-3 development was limited to the adult stage—the virus did not appear to replicate in larvae.
The impetus for the study was simply to know more about this unclassified virus. We'd demonstrated previously that SINV-3 caused significant mortality in fire ants in the laboratory. Our ultimate objective is release of the virus as a biological control agent (into areas in which the virus is not found) and as a biopesticide (as an alternative to traditional insecticides). We needed to know how SINV-3 was killing immature stages of fire ants to make our baits more targeted and effective. We fully expected that the larval stages were capable of supporting SINV-3 replication because larval mortality/disappearance was a hallmark characteristic of SINV-3-infected colonies. Indeed, the response variable we'd used to measure the impact of the virus on colony health was brood rating (a measure of the quantity of immature stages compared with the adult stage).
We were quite surprised by our data, which suggested that the virus does not appear to replicate in the immature stages at all. Northern analysis revealed viral genomic and sub-genomic RNA production in worker ants, but not larvae. These results were confirmed by Western blotting, which showed production of capsid proteins in workers, but not larvae. The incongruity between larval mortality/disappearance and absence of virus replication in larvae led us to hypothesize that the virus may be altering the behavior of the worker ants causing them to neglect the larvae and queen. One obvious change identified in workers was that they stopped retrieving solid food for the colony. The end result is larval mortality and/or shutdown of egg production by the queen.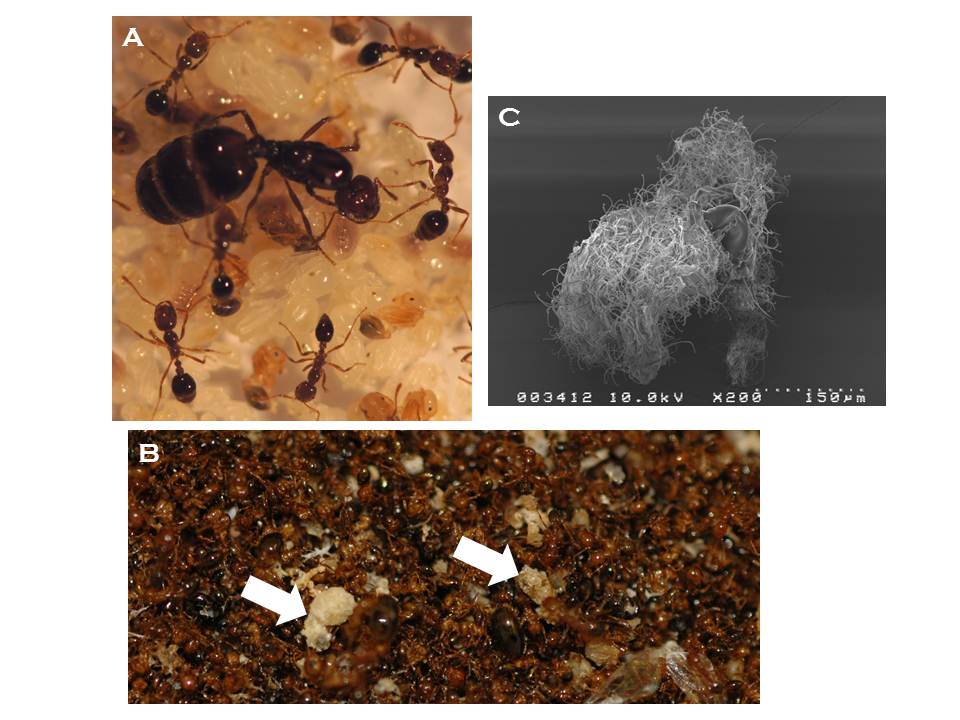 Introducing the authors
Steven M. Valles is a Research Entomologist with the USDA, Agricultural Research Service, USA. Sanford D. Porter is a Research Entomologist with the USDA, Agricultural Research Service, USA. Andrew E. Firth is a Research Fellow at the University of Cambridge, UK.
About the research
Solenopsis invicta virus 3: Pathogenesis and stage specificity in red imported fire ants
Virology, Volumes 460–461, July 2014, Pages 66–71
Steven M. Valles, Sanford D. Porter, Andrew E. Firth