Tobacco mosaic virus infection disproportionately impacts phloem associated translatomes in Arabidopsis thaliana and Nicotiana benthamiana
Text by Tamara Collum and James Culver
For a plant virus, the ability to gain access to the phloem vascular tissue and move systemically throughout its host is often essential for its biological success as well as a key factor in its ability to cause disease. Yet despite the importance of the phloem tissue for viral systemic movement, relatively little is known about how the phloem is altered during virus infection.  To address this question, we used tobacco mosaic virus (TMV) as a model to identify changes to the phloem during virus infection in two systemic hosts, Arabidopsis thaliana ecotype Shahdara and Nicotiana benthamiana.  We found in both hosts the number of gene alterations that occurred in response to infection is at least four fold higher in phloem specific translatomes than in non-phloem translatomes. We also identified both similarities and differences in how viral infection altered the phloem of each host.
Isolating mRNAs specifically from phloem tissues is technically challenging. There is also a risk of introducing containments from damaged neighboring cells with common phloem collection methods such as EDTA-mediated exudation. In this study, we were able to overcome the challenge of phloem sampling by using a translating ribosome affinity purification strategy. This approach uses a tagged ribosomal protein expressed from phloem specific promoters. These tagged ribosomes are then used to immuno-purify mRNA-ribosome complexes, referred to as the translatome, specifically from phloem tissues. Using this approach allowed us to avoid wounding the plant prior to mRNA harvesting.  Another advantage of this approach is that mRNAs associated with ribosomes are more likely to be in the process of translation and thus better represent the cellular condition than total cellular mRNA.
We were surprised to find such large numbers of genes altered in the phloem translatomes compared to non-phloem translatomes. This result emphasizes the importance of altering the phloem environment for virus biology.  Similarities between the two hosts included alteration of genes involved in transport of the systemic acquired resistance mobile signal and the production of phloem mobile siRNAs. These similarly altered phloem genes likely represent conserved virus induced responses involved in modulating the phloem environment and/or promoting systemic virus movement. In contrast, differences between hosts such as alteration of genes involved in the generation of reactive oxygen species likely reflect unique host responses that contribute to observed differences in symptoms. Future studies that identify conserved phloem alterations in additional virus and host combinations will be of great interest to find potential targets for the development of new management strategies.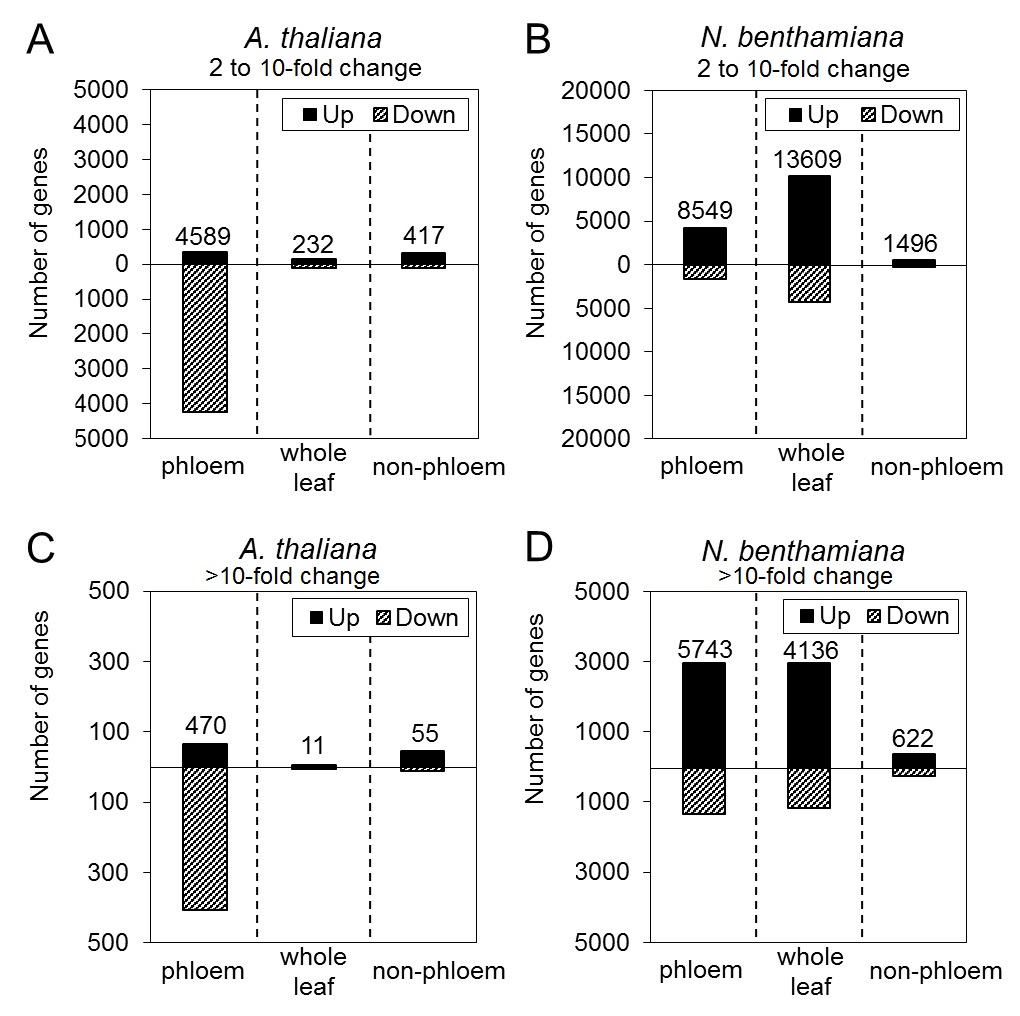 Figure Legend
Number of genes up regulated or down regulated 2 to 10-fold in response to TMV in A. thaliana (A) or N. benthamiana (B). Number of genes up regulated or down regulated > 10-fold in response to TMV in A. thaliana (C) or N. benthamiana (D).
Introducing the authors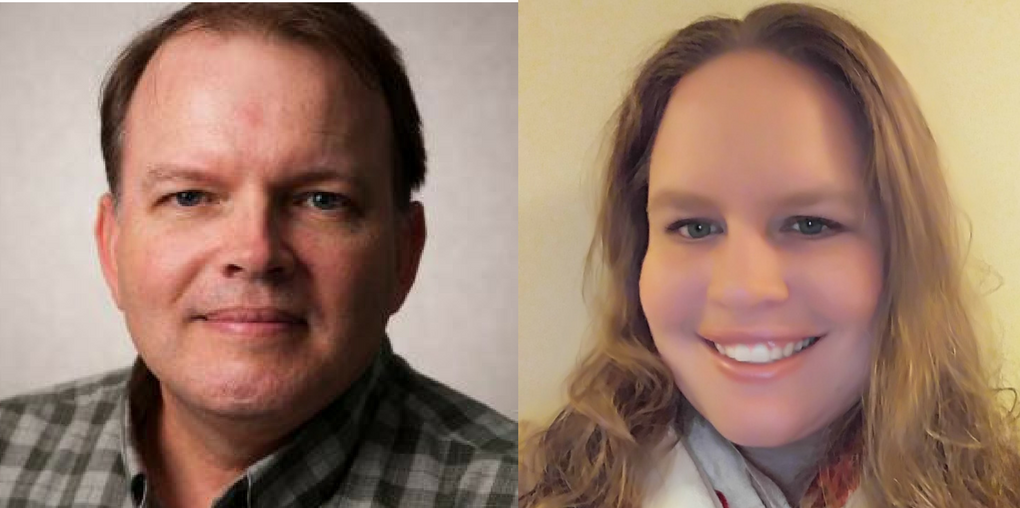 Pictured  James Culver (left), Professor, Department of Plant Science and Landscape Architecture, Institute for Bioscience and Biotechnology Research, University of Maryland, College Park, MD, USA.
Tamara Collum (right), Postdoctoral Researcher, Institute for Bioscience and Biotechnology Research, University of Maryland, College Park, MD, USA.
About the research
Tobacco mosaic virus infection disproportionately impacts phloem associated translatomes in Arabidopsis thaliana and Nicotiana benthamiana
Tamara D.Collum, James N.Culver
Virology, Volume 509, September 2017, Pages 76-89