Evaluation of higher plant virus resistance genes in the green alga, Chlorella variabilis NC64A, during the early phase of infection with Paramecium bursaria chlorella virus-1
Read the full article on ScienceDirect.
Given the importance of algae in global biogeochemical cycling, global climate, and as a potential source for renewable fuels, there is a need to better understand the role of viruses in algal biology.
In the current study, we examined how an algal cell responds to virus infection, using our well-studied model algal host (Chlorella variabilis)-virus (PBCV-1) system. C. variabilis encodes 375 homologs to genes involved in RNA silencing and in response to virus infection in higher land plants. Transcriptome analyses revealed that 325 of these 375 homologs were expressed in healthy and early PBCV-1 infected (up to 60 min) cells. Among the potential RNA silencing pathways examined, RNA-directed DNA methylation and Sense post-transcriptional gene silencing stood out as likely to be utilized by the host cell for gene regulation and/or virus defense.
The responses algae have against viruses directly impact their global scale effects and can potentially be manipulated to protect algal crops. This analysis is the first of its kind and indicates commonalities and differences between responses of higher plants and green algae to certain viruses, emphasizing the use of what is already known in plant systems to extend our understanding of algal systems. Overall, our results provide a framework for further elucidation of critical alga-virus interactions.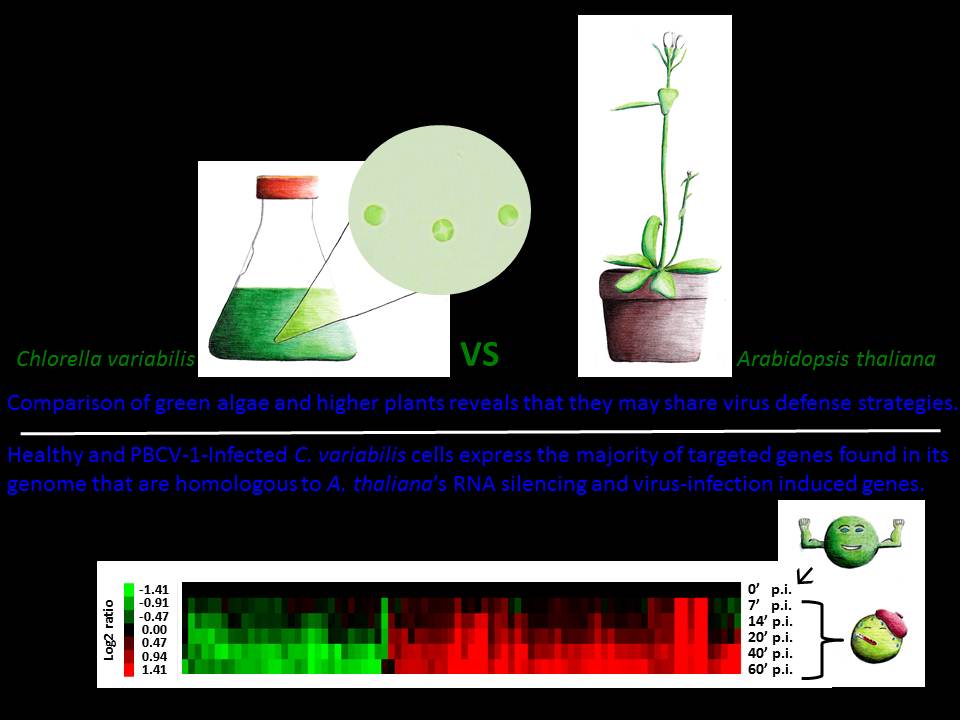 Introducing the author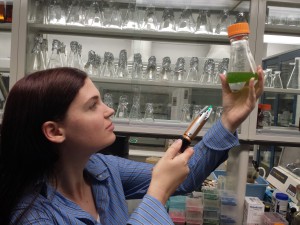 Dr. Janet Rowe uses the latest technology to analyze the green alga, Chlorella variabilis cells. She and coauthors have been examining the interactions between the green alga, C. variabilis, and its virus, PBCV-1, to better understand the ways that algae respond to virus infection and how these responses impact local and global ecosystems.
The research was carried out at  University of Nebraska; Dr. Rowe is now at University of California, Irvine. Photo credit/copyright: Steven Goins.
About the research
Evaluation of higher plant virus resistance genes in the green alga, Chlorella variabilis NC64A, during the early phase of infection with Paramecium bursaria chlorella virus-1
Virology, Volume 442, Issue 2, 1 August 2013, Pages 101-113
Janet M. Rowe, David D. Dunigan, Guillaume Blanc, James R. Gurnon, Yuannan Xia, James L. Van Etten