Cascade regulation of vaccinia virus gene expression is modulated by multistage promoters
Poxviruses are DNA viruses noted for their ability to replicate in the cytoplasm, their medical importance and their usefulness as vaccine vectors. Replication outside the nucleus relies on poxvirus-encoded proteins for genome replication and transcription. Transcription mapping of the genome of vaccinia virus, the prototype poxvirus, revealed 118 genes transcribed before genome replication and 93 only afterwards. Post-replicative gene expression is subdivided into intermediate and late classes that are regulated by stage-specific transcription factors. Fifty-three of the post-replicative genes are classified as intermediate because they are expressed in the absence of late transcription factors; the remaining post-replicative genes are classified as late.
The purpose of our study was to determine whether any of the intermediate genes have dual promoters that can be recognized by late as well as intermediate transcription factors. We devised a specific assay by infecting a cell line that stably expresses the late transcription factors with a mutant vaccinia virus that expresses RNA polymerase but neither intermediate nor late transcription factors. Each intermediate promoter was individually transfected and tested for late promoter activity using a luciferase read out.
The activities varied from none detectable to values approaching that of a strong late promoter. Consensus promoter sequences for early, strict intermediate, dual intermediate/late and late promoters are shown in the figure below. Intermediate promoter activity correlated with a T followed by As at the RNA start site and upstream As centered around nucleotide -15; late promoter activity correlated with a TAAAT at the start site and upstream Ts centered around nucleotide -11. Intermediate/late promoters had features of both strict intermediate and late promoters. Sequences that correlated with intermediate and late transcription were confirmed by mutagenesis. Multistage promoters enable poxviruses to refine the level and duration of expression of individual genes.
This new knowledge can be applied to the development of improved vaccine vectors. Increased amounts of immunogenic proteins can be expressed by employing dual promoters that are active at both intermediate and late times after vaccinia virus infection.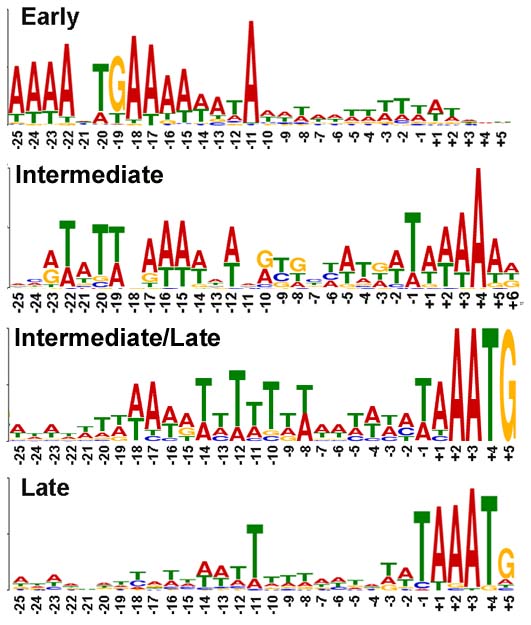 Introducing the author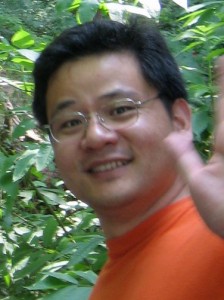 About the research
Zhilong Yang, Liliana Maruri-Avidal, Jerry Sisler, Carey A. Stuart and Bernard Moss
Virology, Volume 447, Issues 1-2, December 2013, Pages 213-220