The emergence and evolution of the novel epidemic norovirus GII.4 variant Sydney 2012
Read the full article on ScienceDirect.
Noroviruses are the most common cause of acute gastroenteritis, globally, and have become increasingly notorious in recent years following a number of devastating pandemics that caused the widespread shutdown of nursing homes, hospitals and child care centres, and ruined many vacations following outbreaks aboard cruise ships. These norovirus epidemics typically occur every 2-3 years following the emergence of new strains from a single genetic lineage, known as the GII.4 noroviruses. Similar to influenza, once these novel strains emerge they quickly spread across the globe to cause millions of new infections and impact significantly on human health. By understanding the evolutionary processes by which the GII.4 viruses emerge we might help better inform control strategies that could minimise the spread and impact of new pandemic strains.
In 2012, a new GII.4 norovirus called Sydney 2012 emerged and was associated with epidemics of acute gastroenteritis in Europe, Asia, Oceania and the United States. The virus was infamously termed the 'Chunder from Down Under' by the British media. Our study sought to determine the exact genetic origins of Sydney 2012 in order to understand how these viruses evolve.
We found that pre-epidemic, ancestral forms of the epidemic GII.4 viruses were in circulation at low levels up to two years before the global emergence of Sydney 2012. The earliest Sydney 2012 ancestor and was identified as early as October 2010 causing sporadic outbreaks in Auckland, New Zealand. Furthermore, our study revealed that genetic mixing, or recombination, between two globally circulating noroviruses, marked the genesis of Sydney 2012 sometime around 2007.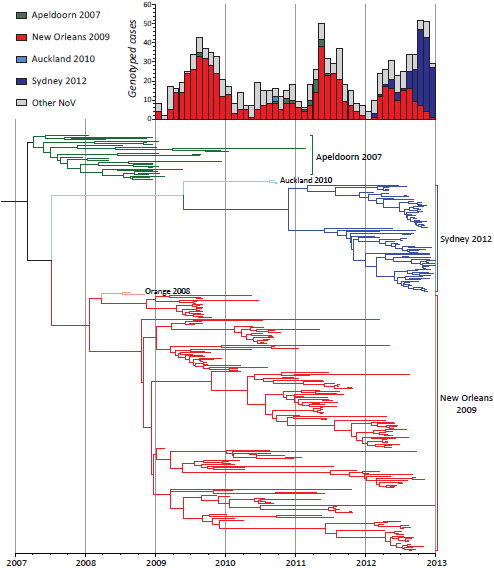 The epidemic emergence of norovirus GII.4 Sydney 2012. (A) Prevalence of circulating norovirus genotypes in the Oceania region (Australia and New Zealand) shown monthly between January 2009 and December 2012. The results show the annual peaks in norovirus activity as well as the shift in prevalence between the GII.4 variants New Orleans 2009 and Sydney 2012 that occurred during late 2012. The monthly prevalence of each GII.4 variant is shown according to the key provided. (B) Phylogeny of the recently circulating GII.4 variants using 286 complete capsid sequences, of which 221 were derived from this study. Clades are coloured as panel. The X-axis is scaled to time (years) with individual tips representing time points of sample collection and is shared with panel A.
Introducing the authors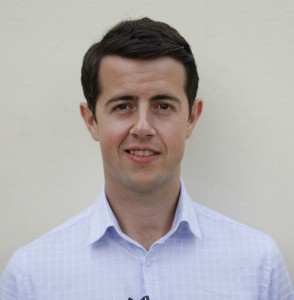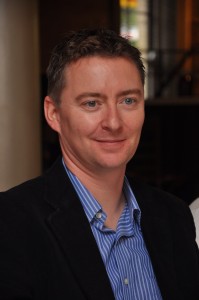 (L) John-Sebastian Eden, PhD: Dr. John-Sebastian Eden is currently a postdoctoral fellow in the School of Biological Sciences, University of Sydney, Australia researching the mechanisms and processes driving the emergence of viruses in new hosts.
(M) Joanne Hewitt, PhD: Joanne is the Laboratory Manager of the Norovirus Reference Laboratory at the Institute of Environmental Science and Research, Porirua, New Zealand.
(R) Peter White, PhD: Peter is a Professor within the School of Biotechnology and Biomolecular Sciences at the University of New South Wales (UNSW), Australia.
About the research
The emergence and evolution of the novel epidemic norovirus GII.4 variant Sydney 2012
Virology, Volumes 450–451, February 2014, Pages 106–113
John-Sebastian Eden, Joanne Hewitt, Kun Lee Lim, Maciej F. Boni, Juan Merif, Gail Greening, Rodney M. Ratcliff, Edward C. Holmes, Mark M. Tanaka, William D. Rawlinson, Peter A. White