Turnip crinkle virus coat protein inhibits the basal immune response to virus invasion in Arabidopsis by binding to the NAC transcription factor TIP
Read the full article on ScienceDirect.
The innate immune system used in any organism against a pathogen is a complicated dance of gene expression and protein interaction. Therefore a major challenge in plant biology is to understand the molecular basis of pathogenesis and the mechanisms by which plants defend themselves against plant pathogens.
In our study, we focused on the exposing a key part of the innate immune defense system of Arabidopsis against the model virus, Turnip crinkle virus (TCV). Previous work done by our lab revealed the coat protein (CP) of TCV has the ability to bind to a transcription factor, TIP, and alter the disease development associated with the infection. We monitored virus accumulation and gene expression in Arabidopsis infected with wildtype TCV or the TCV mutant, R6A, which cannot bind TIP. We were able to reveal that TCV gained a reproductive advantage by evolving the ability to bind TIP and alter disease progression. The altered disease symptoms were linked to TCV altering the salicylic acid hormone signaling pathway and the induction of the senescence which lead to a decrease in virus accumulation and an increase in disease symptoms during R6A infection. This work helps us understand one of the key roles that the CP plays in slowing down the innate immune defense signaling against TCV.
The next step will be to further explore R6A and other TCV mutants in the resistant Arabidopsis ecotype Dijon-17 and how TIP interaction affects the TCV mutants in overcoming the resistance mechanisms.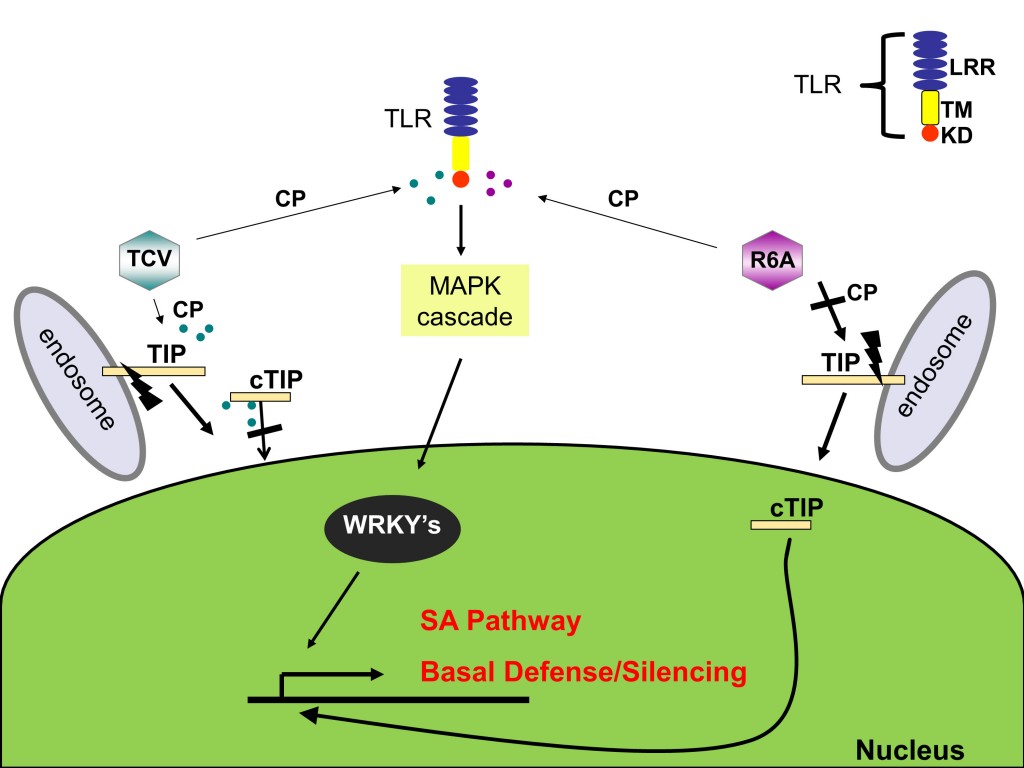 Introducing the authors
Teresa Donze and Jack Morris
School of Biological Sciences, University of Nebraska-Lincoln, USA
About the research
Turnip crinkle virus coat protein inhibits the basal immune response to virus invasion in Arabidopsis by binding to the NAC transcription factor TIP
Virology, Volume 449, 20 January 2014, Pages 207–214
Teresa Donze, Feng Qu, Paul Twigg, T. Jack Morris