Small RNA populations for two unrelated viruses exhibit different biases in strand polarity and proximity to terminal sequences in the insect host Homalodisca vitripennis
Read the full article on Science Direct.
RNA interference (RNAi) is a natural cellular process found in diverse host types and serves to regulate gene expression but also to defend against invading viruses. Anti-viral RNAi activity utilizes Dicer nucleases and the RNA induced silencing complex (RISC) to target and process virus double-stranded RNAs into small RNAs (vsRNAs) ranging from 21 to 24 nucleotides in size.
We investigated the vsRNA responses in the glassy-winged sharpshooter, Homalodisca vitripennis (Hemiptera: Cicadellidae) co-infected by two unrelated viruses. We used next generation sequencing (NGS) to identify the vsRNA profiles for Homalodisca coagulata virus–1 (HoCV-1), a single-stranded RNA virus of the family Dicistroviridae, and Homalodisca vitripennis reovirus (HoVRV), which has 12 double-stranded RNA genome segments and is in the family Reoviridae.
We found strikingly contrasting patterns for vsRNAs mapped against the HoCV-1 and HoVRV genomic RNAs. For HoCV-1, the majority of vsRNAs mapped to the genomic positive-strand RNA. By contrast, HoVRV vsRNAs mapped to both positive and negative-sense strands for all 12 genome segments, each with distinct vsRNA patterns but different genome segments showed distinct vsRNA patterns. Moreover, the HoVRV vsRNAs were enriched for the 5' and 3' regions of all RNA segments which might be explained by the  imperfect repeats present in the HoVRV genome segment termini that are absent in the HoCV-1 genomic RNA.
These data show that taxonomically different viruses in the same host offer different targets for RNA-antiviral defense. Furthermore, since it is likely that both quality and quantity of vsRNAs are dynamic during the course of virus infections, understanding vsRNA responses to virus infections likely offers opportunities for designing new virus-specific control strategies.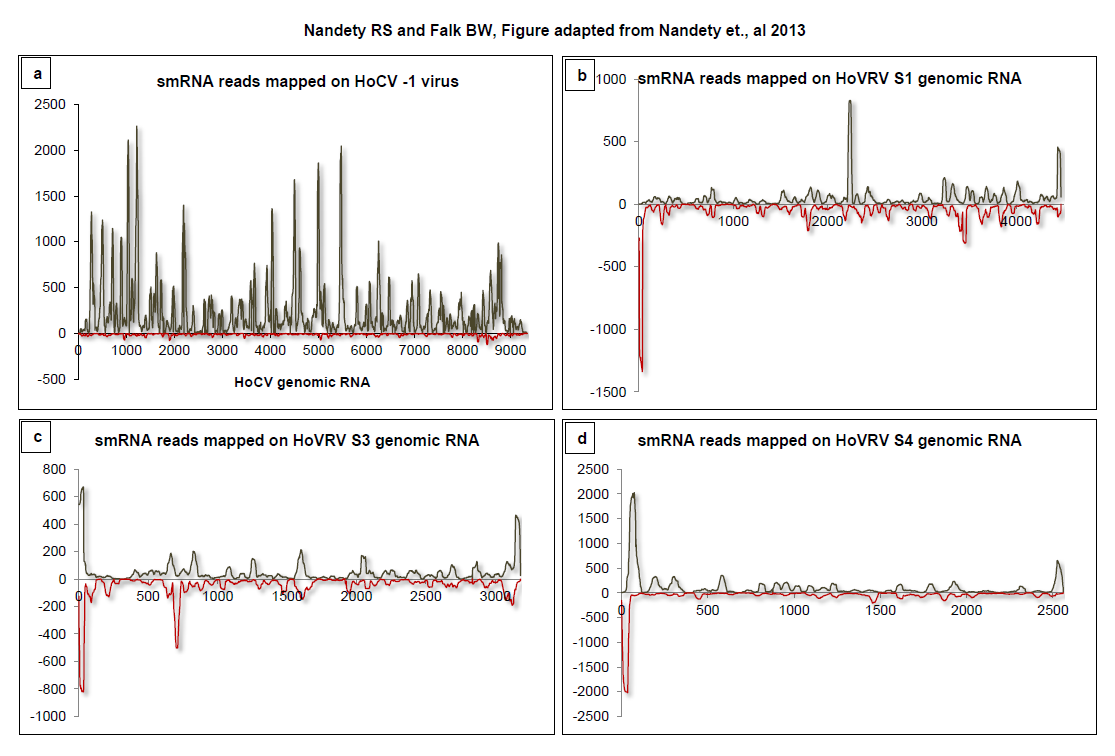 Introducing the authors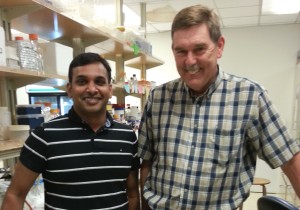 Dr. Raj Nandety, first author (left), and Professor Bryce Falk, corresponding author (right)
Department of Plant Pathology, University of California, Davis, USA
About the research
Small RNA populations for two unrelated viruses exhibit different biases in strand polarity and proximity to terminal sequences in the insect host Homalodisca vitripennis
Virology, Volume 442, Issue 1, Pages 12-19
Raja Sekhar Nandety, Viacheslav Y. Fofanov, Heather Koshinsky, Drake C. Stenger, Bryce W. Falk