Estimating the fraction of progeny virions that must incorporate APOBEC3G for suppression of productive HIV-1 infection 
Read the full article on ScienceDirect.
The interaction between the human protein APOBEC3G (A3G) and the HIV protein Vif is a remarkable example of the evolutionary arms race between viruses and their hosts. A3G expressed in HIV infected cells is incorporated into progeny virions. When a virion carrying A3G infects a cell, A3G induces massive G-to-A hypermutations in the viral genome, often leading to premature stop codons and blocking viral production. Vif targets A3G for proteasomal degradation and prevents its incorporation into virions, enabling persistent infection. The A3G-Vif interaction is therefore a promising target of intervention. Blocking the interaction could unleash the mutagenic potential of A3G and suppress infection. Indeed, several drugs targeting the A3G-Vif interaction are under development.
Our aim was to quantify the extent to which the A3G-Vif interaction must be blocked to fully suppress productive HIV infection. We performed stochastic simulations of HIV dynamics and evolution and found that infection was sustained when the fraction of progeny virions carrying A3G was less than ~0.8, but went extinct when the fraction increased beyond ~0.8. Using two independent modelling approaches, we found that this estimate was robust, giving us confidence in our finding.
Our study thus predicts the feasibility, and hence reiterates the promise, of targeting the A3G-Vif interaction. It also specifies the threshold, in terms of the critical fraction of virions carrying A3G, that must be crossed for the success of such intervention. A quantitative guideline for targeting the A3G-Vif interaction, which could be tested in future experimental studies, thus emerges.
Introducing the authors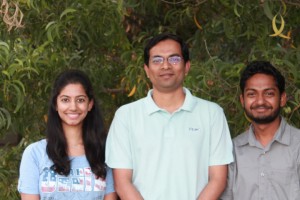 (L-R) Pulari Thangavelu, Narendra Dixit, Vipul Gupta
Indian Institute of Science, Bangalore, India
About the research
Estimating the fraction of progeny virions that must incorporate APOBEC3G for suppression of productive HIV-1 infection
Virology, Volume 449, 20 January 2014, Pages 224–228
Pulari U. Thangavelu, Vipul Gupta, Narendra M. Dixit