Viral fitness does not correlate with three genotype displacement events involving infectious hematopoietic necrosis virus
Read the full article on ScienceDirect.
Genetic epidemiological studies of the fish rhabdovirus infectious hematopoietic necrosis virus (IHNV) throughout the U.S. Pacific Northwest previously identified three major virus genotype displacement events which occurred in trout over the last 35 years. Similar virus genotype displacement events have been described for Dengue virus, West Nile virus, and measles virus, which were often associated with increases in virus fitness. However, there has been limited study of the correlation between fitness and virus genotype displacement events in a natural, vertebrate host.
To test this correlation for IHNV, we performed a series of in-host virus fitness studies to examine replication kinetics, co-infection competition fitness and superinfection fitness within a natural host, steelhead trout. To determine whether increased fitness was associated with genotype displacement, we compared three pairs of genotypes, those involved in each of the three displacement events. In addition, because transmission occurs predominantly horizontally through virus shedding into the surrounding water, we measured the stability of each virus genotype in fresh and salt water conditions at temperatures likely to be encountered in the wild.
In all studies, we found no correlation between increased fitness and displacement, indicating that changes in in-host viral replication fitness, superinfection fitness, and environmental stability are likely not driving the displacement events observed in the field.
Because of the significant cost of IHNV to declining stocks of native Pacific salmon, fish hatchery managers and fish health professionals are very concerned by the spread of IHNV virus types throughout the region and into previously naïve areas. To understand these events, we developed a series of in vivo virus fitness assays with statistically significant numbers of hosts, each held in isolation. The technical obstacle of accurately quantifying individual virus genotypes, which differ in as few as three nucleotides, in mixed infections was overcome with several carefully validated genotype-specific quantitative PCR assays.
We were surprised by our results which determined no correlation between increased fitness and genotype displacement. In fact, we observed that for some assays, fitness was greater for the genotype which was displaced. These observations indicate that changes in the viral fitness components measured here are not driving these displacement events and other factors must play a larger role. The results of these assays will contribute to a landscape-scale epidemiological model for IHNV transmission, emergence, and displacement.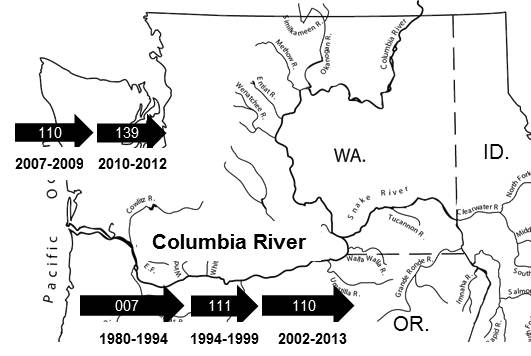 About the research
Viral fitness does not correlate with three genotype displacement events involving infectious hematopoietic necrosis virus
Virology, Volumes 464–465, September 2014, Pages 146–155
Alison M. Kell, Andrew R. Wargo, Gael Kurath