Increased virulence of rabbit haemorrhagic disease virus associated with genetic resistance in wild Australian rabbits (Oryctolagus cuniculus) – free access
Read the full article on ScienceDirect.
The European rabbit (Oryctolagus cuniculus) is an invasive species in into Australia that damages agriculture and wreaks havoc on the environment. To control rabbits, Australia has introduced two different viral pathogens, Myxoma virus (MYXV) in the 1950s and Rabbit Haemorrhagic Disease Virus (RHDV) in 1995. This has not only reduced overabundant rabbits, but has also provided a great model system to study the evolution of emerging diseases, in particular the trajectory of virulence.
Following the release of MYXV, the virus and rabbit host co-evolved quickly: genetically resistant rabbits appeared and virus transmission was maximized by a less virulent form of the disease, in which prolonged infection provided more opportunity for biting insects to transmit virus. By contrast, RHDV has apparently remained highly virulent. Even 18 years after its initial release, the disease still kills rabbits quickly in short, sharp outbreaks in Australia, although it has lost some of its dampening effect on wild rabbit populations. In earlier studies we confirmed that genetic resistance to RDHV is now also beginning to develop in wild rabbit populations in some parts of Australia. It seemed logical to follow this up with the question: Is the virus co-evolving in an attempt to maintain its relative virulence?
The biggest challenge during this project was to acquire enough wild rabbits from a location where genetic resistance had been reported, then breed up enough progeny from these rabbits to run tests. We compared the apparent virulence of three recent RHDV field isolates from the same site, as well as the originally released RHDV strain. We were surprised to see that the recent field isolates were not only more virulent than the 'old' virus strain, but that the relative level of virulence also increased significantly with the year of isolation of the RHDV field strain (see figure), resulting in increasingly higher case fatality rates and shorter survival times.
Virus load also increased, in particular in animals that died within less than 60 hours, prior to the onset of adaptive immune responses and beginning virus degradation in the tissue. This produces 'virus bombs' full of highly infectious particles for transmission. It appears that, similar to MYXV, virus and host co-evolve to maximize transmission. The important difference is that in the case of RHDV the rabbit carcass, not the diseased animal is the main source of virus transmission.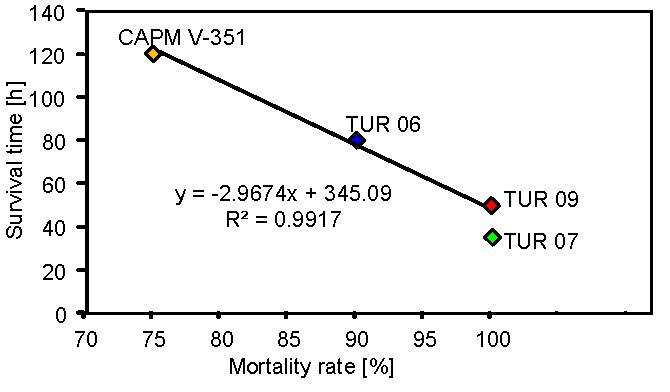 Introducing the author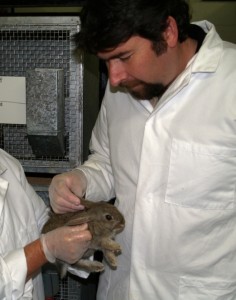 Peter Elsworth, Department of Agriculture, Fisheries and Forestry, Toowoomba, QLD, Australia
About the research
Increased virulence of rabbit haemorrhagic disease virus associated with genetic resistance in wild Australian rabbits (Oryctolagus cuniculus) – free access
Virology, Volumes 464–465, September 2014, Pages 415-423
Peter Elsworth, Brian D. Cooke, John Kovaliski, Ronald Sinclair, Edward C. Holmes, Tanja Strive