In vitro selection of the 3′-untranslated regions of the human liver mRNA that bind to the HCV nonstructural protein 5B
Read the full article on ScienceDirect.
After evading the innate immune system, the hepatitis C virus (HCV) efficiently establishes a persistent infection in which immune-mediated liver injury develops chronic hepatitis. The molecular mechanisms advantageous to persistent HCV replication, where an interaction between the viral products and cellular factors is required, have yet to be elucidated.
In this study, we focused our attention on HCV NS5B, which we hypothesized might interact with host mRNA molecules because it appears to recognize various RNA motifs. We reasoned that the 3′-untranslated regions (3′-UTRs) of mRNA would have a greater likelihood of interaction with viral proteins than the coding regions. Thus, we generated a human liver RNA pool enriched with 3′-UTR sequences.
By applying an iterative selection procedure, we obtained a population of mRNA that tightly binds to the NS5B protein through the 3′-UTR regions. Ribosomal protein S4, X-linked (RPS4X) mRNA and galectin-1 (LGALS-1) mRNA were analyzed. By performing IP-RT-PCR using an HCV replicon cell line, we showed these mRNA molecules bind to NS5B in vivo. Moreover, we found these mRNA 3′-UTRs can serve as templates of NS5B, suggesting the possibility that these RNA molecules regulated in vivo by NS5B. The role of LGALS-1 and RPS4X in HCV-infected cells is a subject of great interest for future studies.
This unique strategy employed in this study was used to identify the in vivo interaction of a viral protein and host mRNA 3′-UTRs. This versatile method should be applicable to the study of essentially any other virus.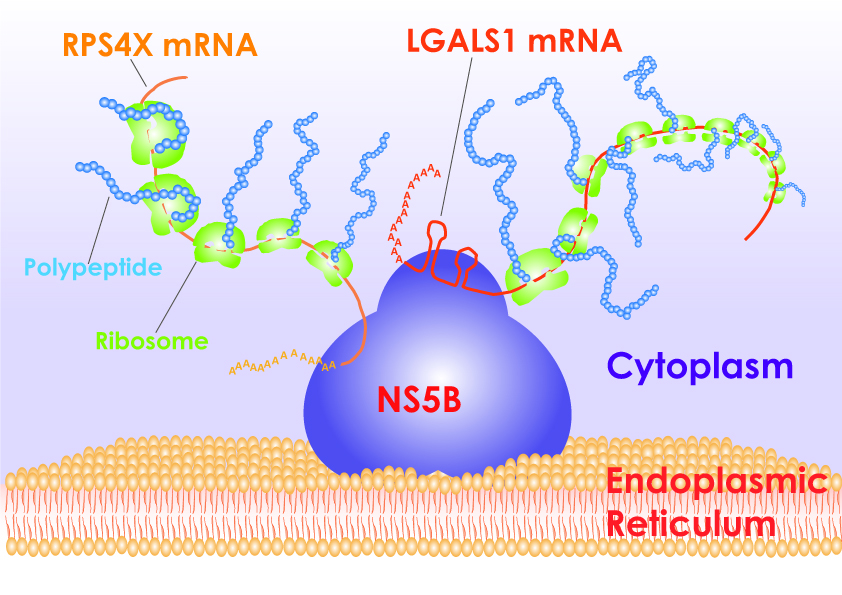 Schematic illustration of the interaction between the HCV NS5B and mRNA 3′-UTRs (LGALS-1 and RPS4X) in the cytoplasm.
Introducing the authors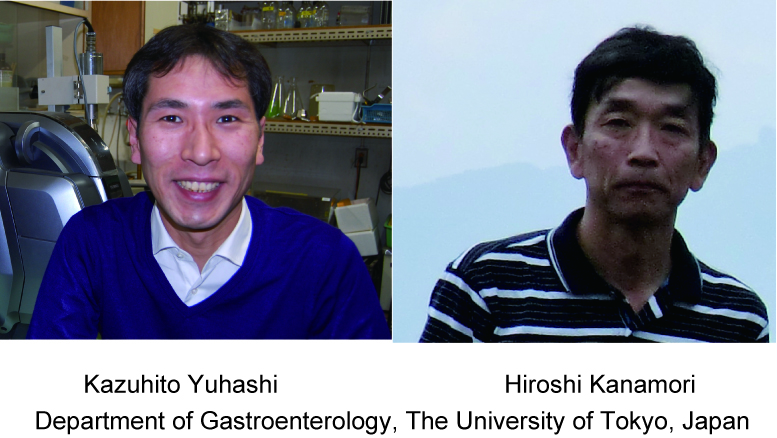 About the research
In vitro selection of the 3′-untranslated regions of the human liver mRNA that bind to the HCV nonstructural protein 5B
Virology, Volumes 450–451, February 2014, Pages 13–23
Kazuhito Yuhashi, Shin Ohnishi, Tatsuhiko Kodama, Kazuhiko Koike, Hiroshi Kanamori