Metagenomic shotgun sequencing of a Bunyavirus in wild-caught Aedes aegypti from Thailand informs the evolutionary and genomic history of the Phleboviruses (Open Access)
Read the full article on ScienceDirect.
This work began in 2007 fueled by the ambitions of two students, Panpim Thongsripong and Amy Green, who hungered for a better understanding of the evolutionary ecology of emerging infectious diseases and, in particular, how environmental gradients shaped the community of disease vectors and the (potentially pathogenic) microbes they harbor (see the figure). Under the guidance of Shannon Bennett, Durrell Kapan, Pattamaporn Kittayapong, and Bruce Wilcox they found a suitable landscape gradient northeast of Bangkok, Thailand and everyone set to work collecting and cataloging the diversity of mosquitoes along that gradient (Thongsripong et al. 2013).
But characterizing the mosquitoes was only the first part of this story: What about the microbes (pathogenic or otherwise) that they are associated with? Although there are established methods for testing for the presence of known viruses or unknown bacteria and unicellular eukaryotes [such as 16S and 18S PCR amplicon sequencing (stay tuned for more on this from our group soon)], looking for unknown viruses in environmental samples is not as straightforward. For this, we teamed up with Gary Schroth of Illumina for his expertise in next-generation sequencing. We chose a single sample from the Thai environmental transect (Aedes aegypti from a rural habitat) and performed high-throughput shotgun sequencing on its RNA metagenome.
Here, we hit a speed bump: What to do with the 100+ million short reads that were generated! While the "Materials and Methods" section suggests a straightforward path from raw sequences to the near complete genome of a poorly characterized virus, the actual route taken was much more circuitous. Initially, we queried the unassembled reads using blast and had more false positives then we knew what to do with. Removal of all reads that matched the Aedes aegypti and human genomes did not clarify things much. Then we tried de novo assembly, translation of all the resulting contigs, and classification using blast and the vFam HMMs. All three segments of an extremely prevalent Bunyavirus jumped out at us! Phylogenetic analysis found that this virus is basal to the Phleboviruses, making it ideally positioned to understand the evolution of virulence in that genus.
Analysis of this virus's genome found three of the four known Phlebovirus genes, but none of our (extensive and sometimes frustrating) efforts could locate the elusive fourth gene. Its absence did not make sense until a literature search found that this gene, while essential for virulence in vertebrates, is not needed for viral replication in insects (Moutailler et al. 2011, Muller et al. 1995). If this virus is "insect-specific", in that its lifecycle does not have a vertebrate stage, then this fourth gene is not necessary.
In basic research, some of the most interesting stories often begin without a clearly defined path to their conclusion. Here, we had no idea the viral diversity associated with this population of Aedes aegypti or if our technique would discover anything new. Given our success with this single sample, we are excited to move forward looking at the thousands of mosquitoes that were collected along the environmental gradient (Thongsripong et al. 2013) and hopefully gain interesting insights into how environmental factors affect vector diversity and the microbes they carry (see the figure).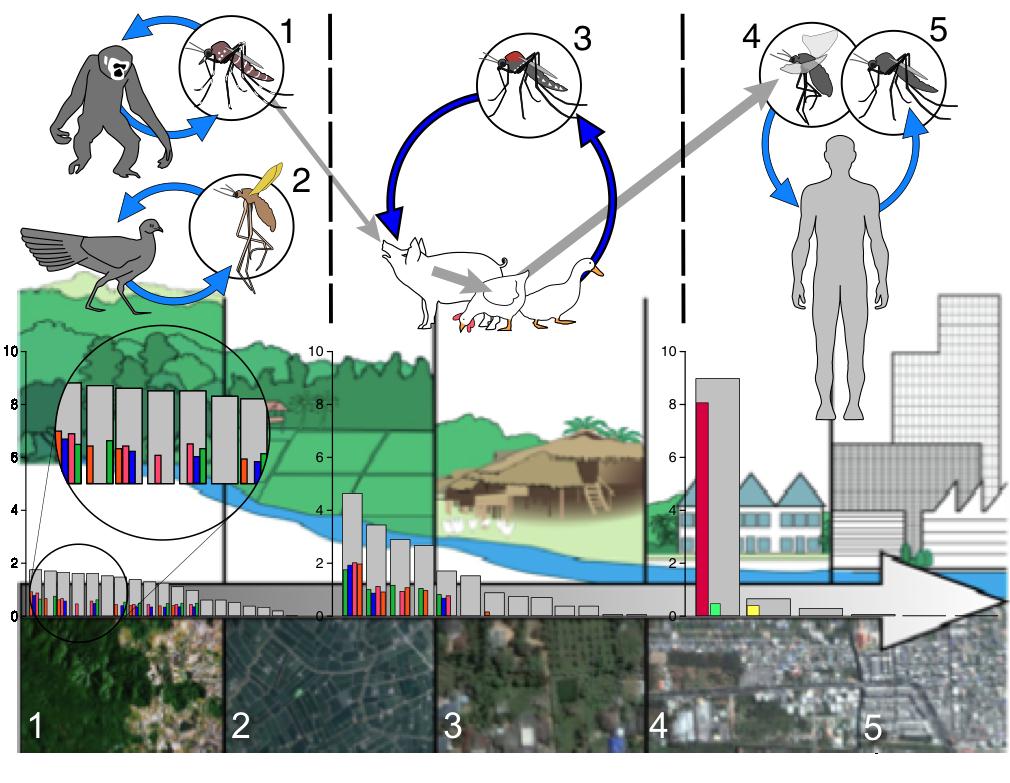 Introducing the author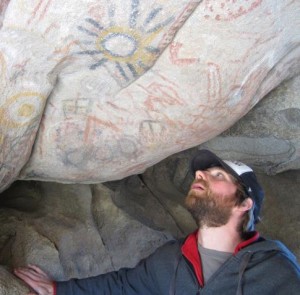 Angus Chandler is a postdoctoral researcher in the Department of Microbiology at the California Academy of Sciences in San Francisco, California, USA.
About the research
Metagenomic shotgun sequencing of a Bunyavirus in wild-caught Aedes aegypti from Thailand informs the evolutionary and genomic history of the Phleboviruses (Open Access)
Virology, Volumes 464–465, September 2014, Pages 312–319
James Angus Chandler, Panpim Thongsripong, Amy Green, Pattamaporn Kittayapong, Bruce A. Wilcox, Gary P. Schroth, Durrell D. Kapan, Shannon N. Bennett