Read the full article on Science Direct
West Nile virus (WNV), a mosquito-borne flavivirus naturally maintained in birds, has been circulating in ecologically diverse regions of California since its introduction in 2003. To elucidate aspects of the spatio-temporal evolution of this zoonotic virus, we phenotypically characterized WNV isolates from four different areas in California. By using an in vivo fitness competition model to compare the replicative fitness of these isolates to a genetically labelled clone of an early 2003 California strain, we found that most WNV isolates from 2007 – 2008 had undergone clear changes in fitness. Specifically, dual competition in House Finches revealed reduced mortality and marked increased in the replicative fitness of most wild type isolates. Interestingly, when the same strains were competed in the mosquito vector, dual infection of bodies was followed by only one strain dominating in salivary gland secretions, and most wild type isolates exhibited increased fitness in the vector.
Our motivation to conduct this study originated from the invasion of the WN02 genotype strain of WNV into California and subsequent persistence of the virus in varying biomes of the state. To understand what factors drive viral persistence during the winter, we focused on investigating viral fitness as a measure of phenotypic change of WNV isolates collected at different sites and time points during the transmission season.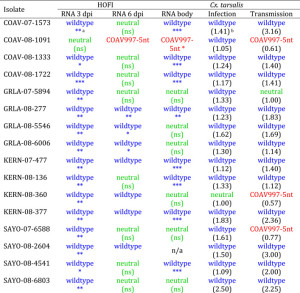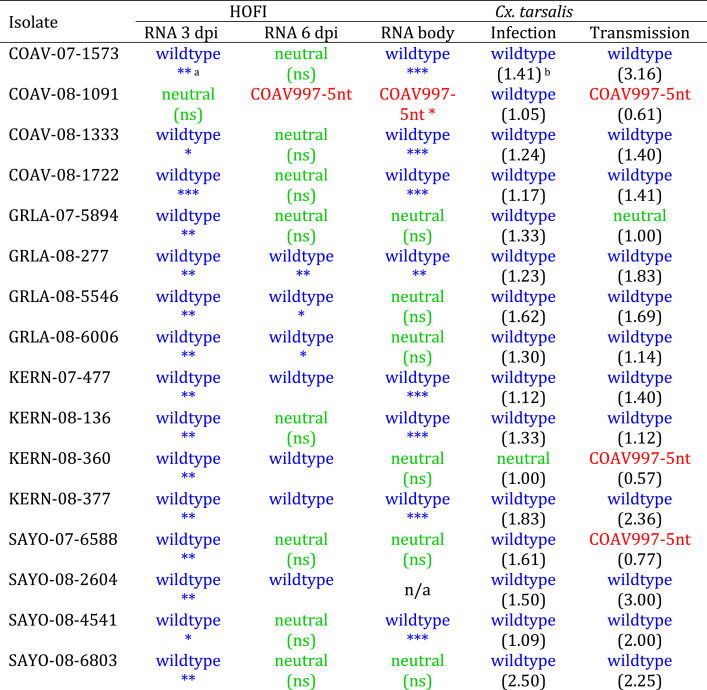 Relative fitness of WNV isolates after in vivo competition in HOFIs and Cx. tarsalis.
We needed to overcome several roadblocks to enable our fitness competition studies: Rather than looking at replicative fitness changes side-by-side using competence experiments, we opted to use an in vivo fitness model that allowed for direct competition of our genetically marked reference virus, COAV997-5nt, and wild type WNV isolates in the same host, therefore minimizing inter-host differences potentially affecting replication. While this approach presented an optimal way to tease out minimal fitness differences, it also posed a challenge because our mixed competition samples required specific quantification following dual infection of birds and mosquitoes. After extensive efforts, we developed and optimized our qRT-PCR assay for the specific and sensitive detection of COAV997-5nt and wild type WNV facilitating high-throughput comparison of RNA copy levels from both virus strains.
The most interesting surprise along this road was to discover that within a short period of five years of WNV transmission and circulation in California, the majority of isolates from the different study sites exhibited similar increases in replicative fitness in both hosts compared to our COAV997-5nt reference virus.
Introducing the authors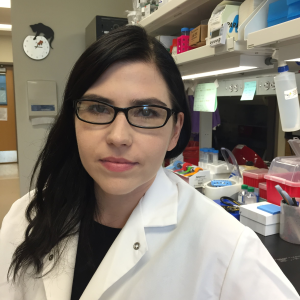 About the research
Increases in the competitive fitness of West Nile virus isolates after introduction into California
Virology, Volume 514, 15 January 2018, Pages 170-181