Mapping the telomere integrated genome of human herpesvirus 6A and 6B
Read the full article on Science Direct.
After primary infection all human herpesviruses undergo latency, but reactivation from latency causes diseases upon immunosuppression or during ageing. During latency the DNA genome of herpesviruses form a circular episome in the nucleus.
However, previous experiments from this laboratory show that Human Herpesvirus 6A (HHV-6A) is unique among human herpesviruses: the viral genome efficiently integrates into telomeres of chromosomes during latency in vitro. The author's group and others have published that the integrated HHV-6 genome can be inherited via the germline, a condition known as chromosomally integrated HHV-6 or CIHHV-6. About 0.8% of the US and UK population carry the viral genome in the telomere of a single chromosome of every nucleated cell.
In Virology the authors describe in vitro evidence that HHV-6B also integrates in telomeres. Mapping of the integrated virus shows that the physical end of the HHV-6A-invaded chromosome still harbors telomere repeats similar to the termini of other chromosomes. Finally, the integrated HHV-6A genome can be reactivated from its latent integrated stage by stimulation with histone deacetylase inhibitor, Trichostatin A.
Indirect evidence shows that the excised genome forms circular replication intermediates as illustrated on the cartoon model. While most CIHHV-6 positive individuals show no sign of pathology recent publications suggest that this is not always the case. Future studies are required to understand the medical significance of CIHHV-6. Another unresolved question is whether HHV-6A and HHV-6B integrate in telomeres of people during clinical latency as most people experience primary infection with these viruses.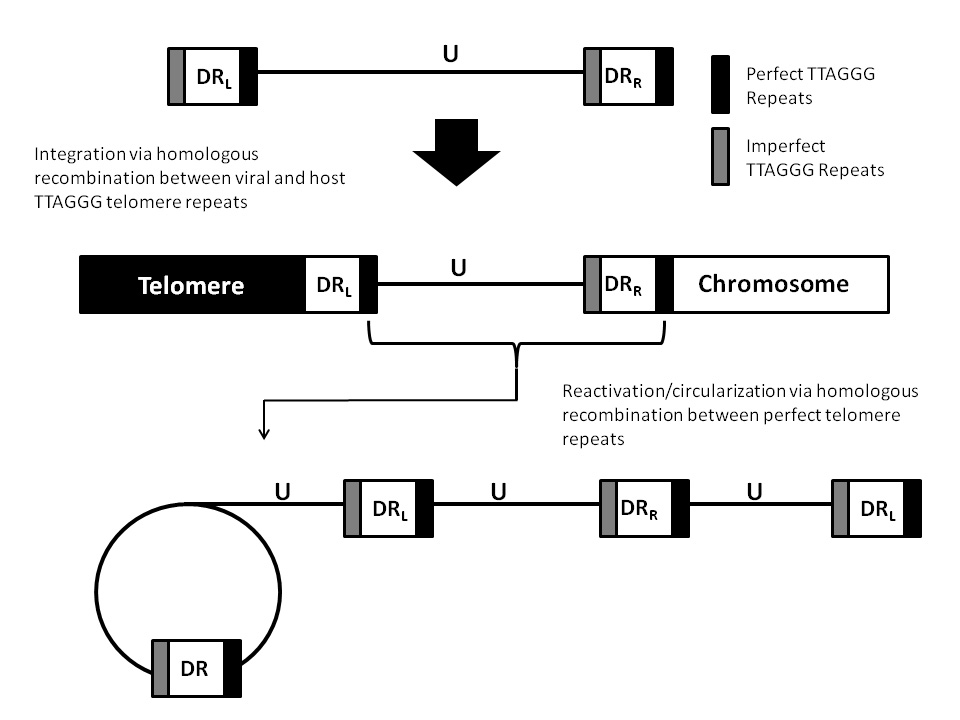 Introducing the authors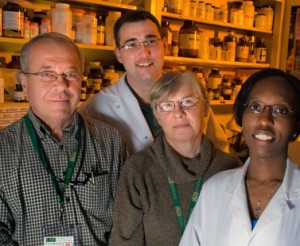 Laboratory members from right to left: Shara Pantry, Maria Medveczky, Jesse Arbuckle, and Peter Medveczky
Department of Molecular Medicine, University of South Florida
About the research
Mapping the telomere integrated genome of human herpesvirus 6A and 6B
Virology, Volume 442, Issue 1, 20 July 2013, Pages 3-11
Jesse H. Arbuckle, Shara N. Pantry, Maria M. Medveczky, Joshua Prichett, Kristin S. Loomis, Dharam Ablashi, Peter G. Medveczky