An unbiased in vivo screen reveals multiple transcription factors that control HPV E6-regulated hTERT in keratinocytes
Read the full article on ScienceDirect.
The expression of hTERT is required in a majority of cancers, and this has made understanding hTERT regulation a key part of cancer research. However, the mechanism by which hTERT expression is controlled remains a puzzle.
One way to better understand this mechanism is to identify all proteins that could bind to the promoter of the hTERT gene in cells. To achieve this, we adapted a LacO-LacI system developed in yeast for human cells, and we successfully pulled down proteins bound to the hTERT promoter. As expected, we confirmed the presence of several previously identified hTERT regulators, including the Myc/Max heterodimer and Sp1, on the hTERT promoter. Additionally, we identified novel hTERT regulators that were confirmed by a siRNA screen. We focused on the novel regulator Maz, and we showed that Maz functioned on the hTERT promoter as a repressor. In high-risk human papillomavirus oncoprotein E6 expressing cells, we found that E6 reduced Maz bound to the hTERT promoter and there was a correspondingly increase Sp1 bound to the hTERT promoter. We also found that knock down of Maz in E6 expressing cells led to hTERT promoter histone acetylation and greater expression of hTERT.
Our study highlights an unbiased method in human cells to identify transcription factors bound to a promoter and novel regulators of hTERT gene expression. This new mammalian DNA-interacting protein screen will have wide applications for understanding gene regulation.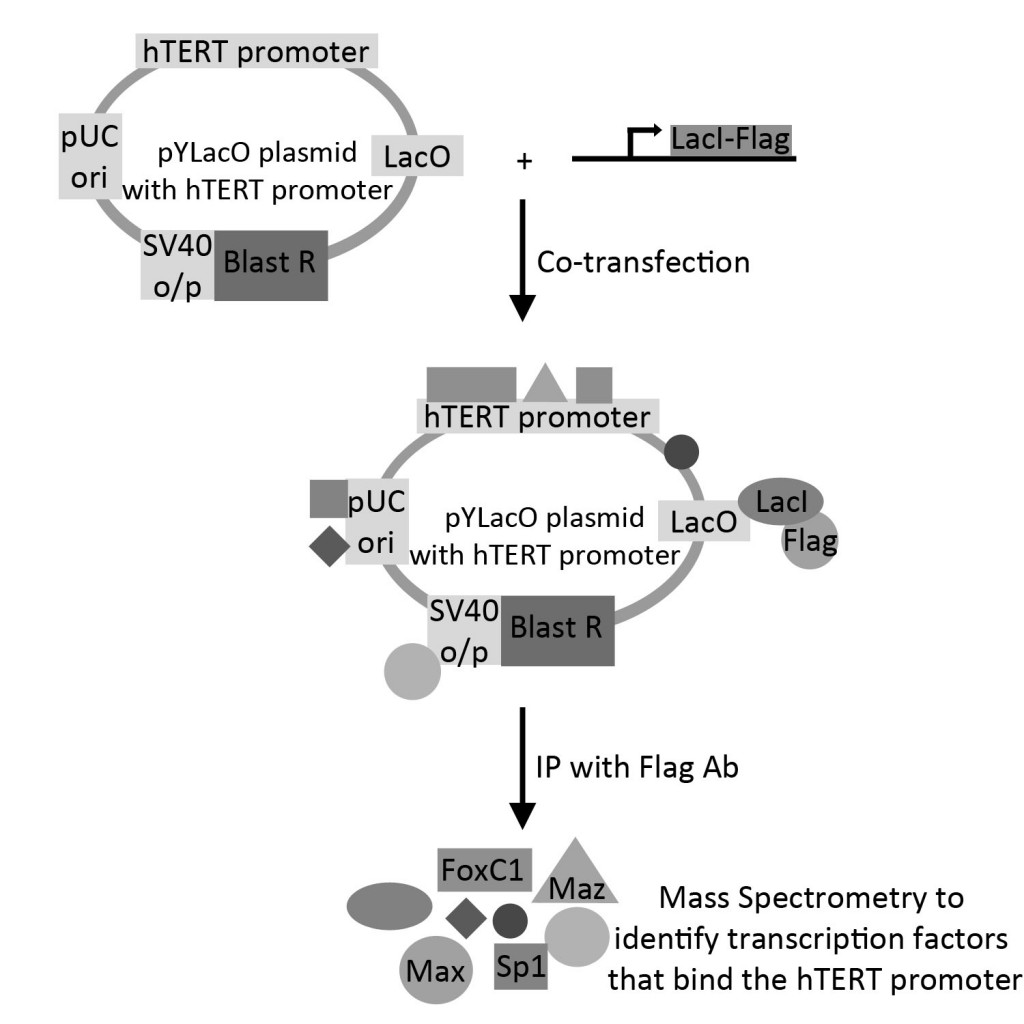 Characterization of the LacO–LacI system in 293 TT cells: schematic diagram of the LacO–LacI system adapted in 293 TT cells. Proteins bound to the pYLacO–hTERTp plasmid containing LacO repeats were captured by LacI-Flag affinity purification.
Introducing the authors
(L-R) Mei Xu, Rachel A. Katzenellenbogen
About the research
An unbiased in vivo screen reveals multiple transcription factors that control HPV E6-regulated hTERT in keratinocytes
Virology, Volume 446, Issues 1–2, November 2013, Pages 17–24
Mei Xu, Rachel A. Katzenellenbogen, Carla Grandori, Denise A. Galloway