Geminivirus AL2 protein induces expression of, and interacts with, a calmodulin-like gene, an endogenous regulator of gene silencing
Read the full article on ScienceDirect.
Geminiviruses are plant viruses that cause serious destruction in almost every staple food crop worldwide. Damage caused by geminivirus infections can result in complete crop loss, severely impacting the economic livelihoods of resource-poor farmers in many regions of the world.
Our work has been focused on examining how geminiviruses manipulate their plant hosts, with the long-term goal of developing resistance strategies to combat the ever-increasing threat of geminivirus infections to food security. This work has uncovered a potential link between the ability of geminiviruses to suppress RNA silencing, an innate cellular response involved in antiviral defense, and a host calmodulin-like protein (rgsCaM). One possible role for rgsCaM that has been proposed though the work performed in my laboratory and elsewhere, is that rgsCaM can function to suppress antiviral defense in the absence of a viral infection. When the plant host detects a viral infection, the system would then be induced to target the invading pathogen.
Dr. Ho Yong Chung, a postdoctoral research fellow, discovered that expression of rgsCaM is induced upon infection by geminiviruses. One of our main findings is that over-expression of rgsCaM leads to increased susceptibility to infection. This is a consequence of increased viral DNA loads, which is believed to be a result of the inability of the host to induce RNA silencing. This supports a model where the geminiviruses induce a host silencing suppressor, to turn off the RNA silencing machinery, preventing the host from mounting a successful defense response.
One of the more surprising findings was the ability of one of the viral proteins, AL2, to interact with rgsCaM. This was somewhat unexpected given that AL2 is a viral silencing suppressor and that recent work has suggested that rgsCaM may target silencing suppressors of RNA viruses for degradation via the autophagy pathway. This interaction occurs within the cytoplasm, but AL2 interacts with rgsCaM in the nucleus.
It is tempting to speculate that AL2 may act to sequester rgsCaM in the nucleus, preventing targeting of AL2 for degradation via the autophagy pathway. Given the role of AL2 in suppressing transcriptional gene silencing (TGS), and that Cajal bodies in plants are associated with the nucleolus and may play a role in guiding RISC complexes associated with TGS to the chromatin, it is exciting to speculate is that AL2 and rgsCaM may play a role in this process.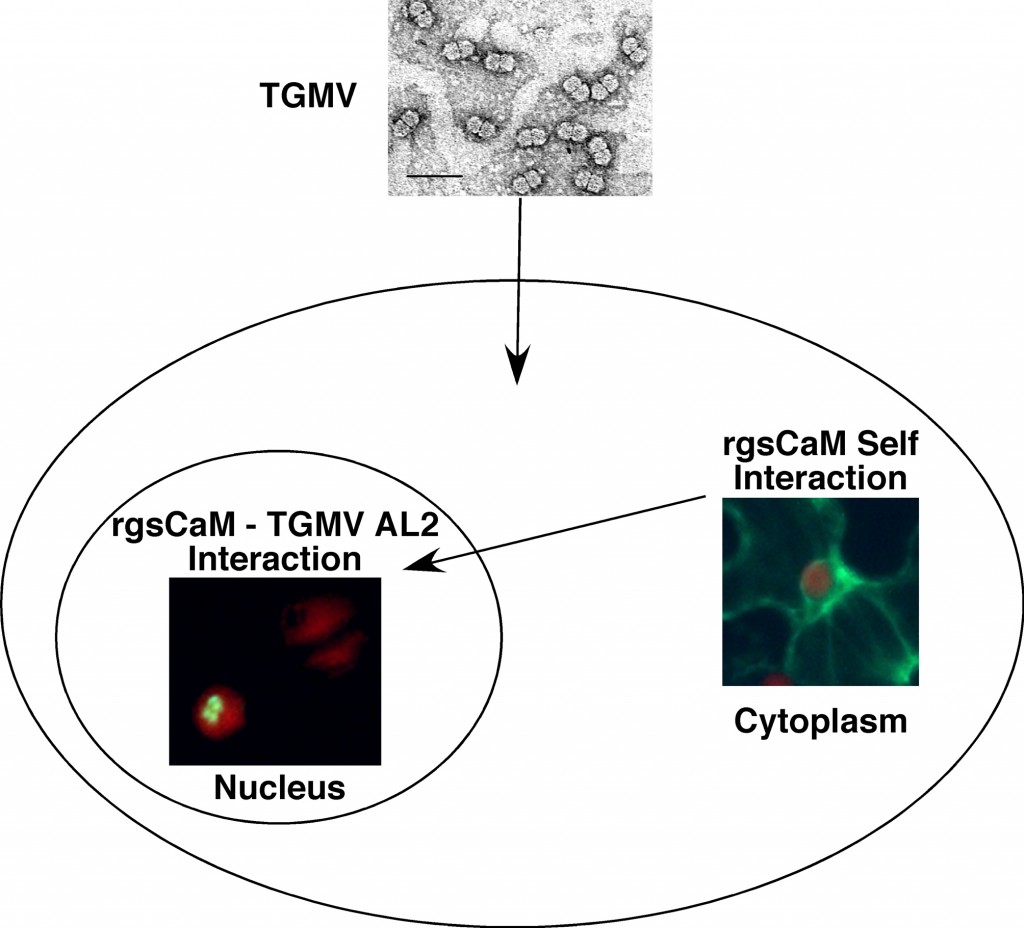 Introducing the author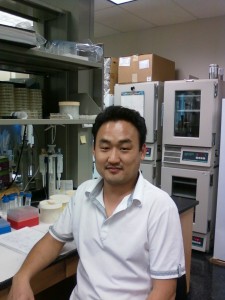 Ho Yong Chung, Department of Biology, The University of Texas at San Antonio, USA
About the research
Geminivirus AL2 protein induces expression of, and interacts with, a calmodulin-like gene, an endogenous regulator of gene silencing
Virology, Volumes 460–461, July 2014, Pages 108–118
Ho Yong Chung, Gabriela Lacatus, Garry Sunter