The RXL motif of the African cassava mosaic virus Rep protein is necessary for rereplication of yeast DNA and viral infection in plants
Read the full article on ScienceDirect.
African cassava mosaic virus (ACMV) in the geminivirus family has being affected 500 million people worldwide by devastating cassava crops during the past decades. It has caused severe symptoms and reduced yield up to the complete loss of roots, the main starchy food source especially for subsistence farmers in Africa. How can a tiny virus with a small genome evoke such dramatic effects? The viral key component, the replication-initiator protein (Rep), forces differentiated plant cells in the phloem to reactivate DNA synthesis. Even more, it does the same in model cells of fission yeast. We have identified, now, a potential cyclin interaction motif, RXL, in the sequence of ACMV Rep, which may be important for cell cycle control. This motif is essential to induce rereplication in yeast and necessary for viral infection of plants.
It has been already known that some geminiviral Rep and nanoviral Clink proteins may activate steps of the cell cycle by binding a plant homolog of the retinoblastoma protein (pRBR), a common cell cycle regulator at G1/S phase in eukaryotic organisms. However, fission yeast lacks such an RB protein, but ACMV Rep induced rereplication of the yeast DNA as we have shown previously. Therefore, alternatives how the Rep protein can manipulate the cell cycle must exist. A potential cyclin binding motif, RXL, is highly conserved across divergent geminivirus genera and may be a good candidate. Indeed, mutation of this motif abolished the cell division cycle phenotype and no rereplication occurred in fission yeast. Moreover, the nanoviral Clink protein, which is specialized to affect the plant cell cycle by binding to pRBR, did not change cell division in yeasts. Neither wild-type Clink nor a Clink mutant deficient in pRBR binding exhibited any phenotype or altered DNA, supporting the conclusion that no hidden RB protein is present in yeast.
Most importantly, the RXL motif is crucial for the viral infection in plants. Mutating the RXL motif in ACMV Rep reduced the infection rate in Nicotiana benthamiana plants to nearly zero. If symptoms in individual plants (12%) appeared, they were found to be induced by revertants to the wild-type sequence, underscoring the necessity of the RXL motif in the context of the viral infection.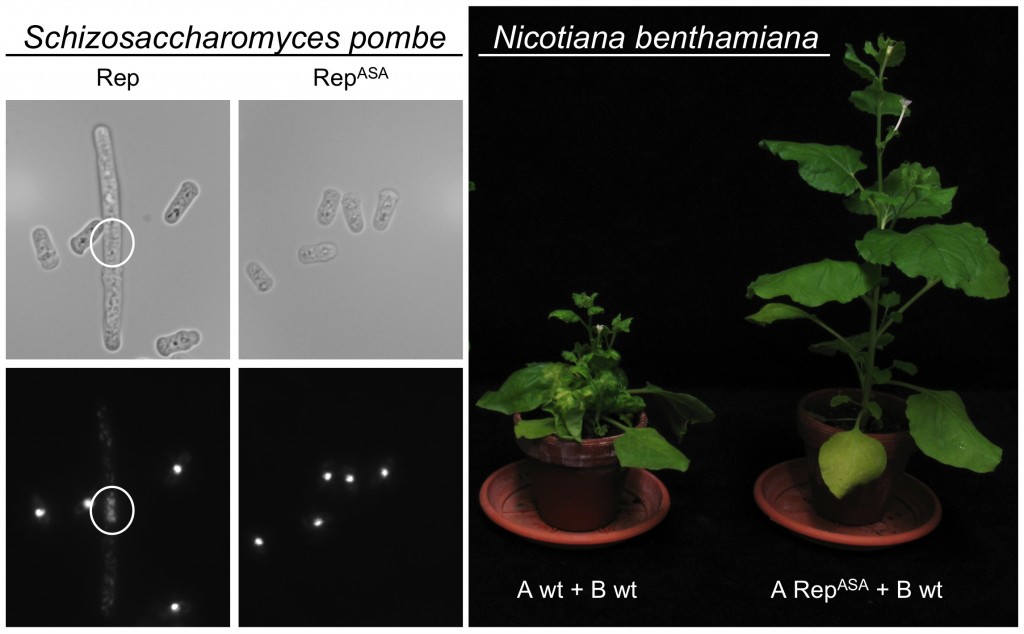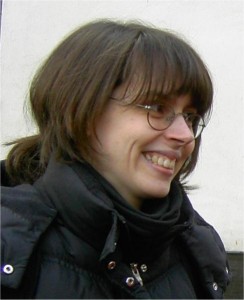 Katharina Hipp (nee Kittelmann) is a postdoctoral researcher at the University of Stuttgart, Germany.
About the research
The RXL motif of the African cassava mosaic virus Rep protein is necessary for rereplication of yeast DNA and viral infection in plants
Virology, Volumes 462–463, August 2014, Pages 189–198
Katharina Hipp, Peter Rau, Benjamin Schäfer, Bruno Gronenborn, Holger Jeske