Editors: Richard C. Condit and Matthias G. Fischer
Read the Giant Viruses Special Issue on Science Direct for free.
The October issue of Virology is a Special Issue on Giant Viruses. Here is an excerpt of the editorial, by Editor Matthias G. Fischer. You can read the editorial in full, for free, on ScienceDirect.
Viruses are usually perceived as highly streamlined parasites, encoding the bare minimum of information required for reproduction. Although complex viruses with more than one hundred genes, such as Baculo-, Herpes- and Poxviruses, have been known for decades, it was only in recent years that large DNA viruses have attracted a wider attention. In particular, it was the serendipitous discovery of Acanthamoeba polyphaga mimivirus, the first virus shown to harbor a megabase pair-sized genome (Raoult et al., 2004), that extended the viral spectrum far into the realm of cellular life and stimulated an intense debate about the nature of viruses and their evolutionary significance. Since then, a targeted search for giant viruses has unsheathed a staggering variety of viruses with ostentatiously large genome and particle sizes, and many more are awaiting discovery.
Ten years after Mimivirus was introduced to the public, 39 scientists from 14 countries gathered at Max Planck Society's Ringberg Castle, located south of Munich, for the 1st International Symposium on Giant Virus Biology. The 25 presentations covered a wide range of topics, from biochemistry to genomics, from virus structure and assembly to ecological and evolutionary questions. This holistic approach to the biology of giant viruses allowed for inspiring discussions and a fruitful exchange of ideas, and resulted in the unanimous call for a follow-up meeting in 2015.
In this special issue of Virology, we highlight some of the stories that were presented during the 2013 Ringberg Symposium. We are grateful to the authors for the time and effort they put into their contributions and to Elsevier for making all papers in this special issue open access. Although the field of giant virus research is still a young one, it has already achieved a remarkable feat by changing the way we think about viruses, and we eagerly await future developments.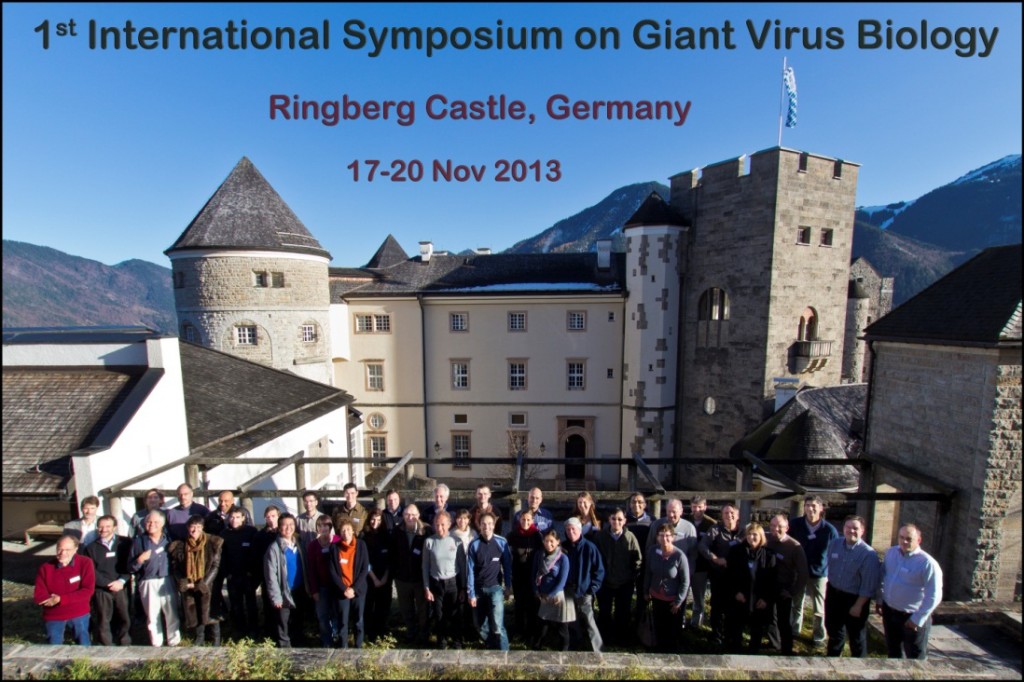 Main image: A. Minsky – A model derived from Electron Tomography that shows the opening of the Mimivirus stargate. This opening enables the fusion of the Mimivirus internal membrane (red) with the host phagosomal membrane (magenta), thus generating a portal through which the huge Mimivirus genome is released into the host cytoplasm.