Genome rearrangement of a mycovirus Rosellinia necatrix megabirnavirus 1 affecting its ability to attenuate virulence of the host fungus
Read the full article on ScienceDirect.
Mycoviruses are viruses that infect fungi. Most mycoviruses are asymptomatic, but some induce phenotypical changes in their host fungi. Previous examination of field isolates of the destructive root rot pathogen Rosellinia necatrix allowed us to detect the mycovirus Rosellinia necatrix megabirnavirus 1 (RnMBV1). RnMBV1 infection drastically reduces the virulence of the host fungus. This suggests that RnMBV1 has potential as a biological control agent (virocontrol) against R. necatrix. RnMBV1 has two genome segments, dsRNA1 encoding ORF1 (CP) and ORF2 (RdRP), and dsRNA2 encoding two ORFs with unknown function. Each segment has an extremely long (1.6 kb) 5' UTR, and a relatively short 3' UTR. RnMBV1 is placed into a newly established virus family, Megabirnaviridae, as the type species.
During tests where host fungi were infected with purified virions, small numbers of viral strains were found with genome rearrangements. The rearranged strain, RnMBV1-RS1, has both dsRNA1 and a rearranged, shorter version (dsRNAS1). Interestingly, dsRNAS1 had a tandem duplication of ORF2 (RdRP), was missing another, ORF1, had a short 5' UTR, and lacked the dsRNA2 genome segment. Most importantly, RnMBV1-RS1 has reduced replication and decreased virulence attenuation in the host fungus compared with RnMBV1. This indicates that dsRNA2 is dispensable for virus replication, but necessary to decrease the host fungal virulence.
Successful virocontrol requires understanding the interactions between viruses and host fungi. This study is a step towards determining interactions between RnMBV1 and R. necatrix. Further work will be needed to determine the contribution of dsRNA2 to virus replication and host virulence reduction. The rearranged RnMBV1 strains found in this study will be important tools to dissect these interactions.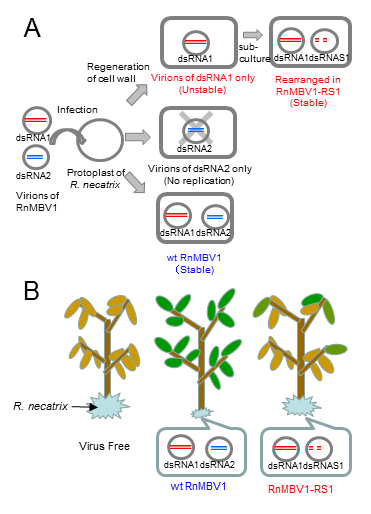 Introducing the author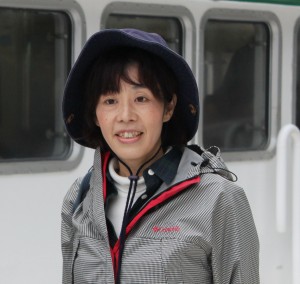 Satoko Kanematsu, NARO, Institute of Fruit Tree Science, Division of Apple Research
About the research
Genome rearrangement of a mycovirus Rosellinia necatrix megabirnavirus 1 affecting its ability to attenuate virulence of the host fungus
Virology, Volumes 450–451, February 2014, Pages 308–315
Satoko Kanematsu, Takeo Shimizu, Lakha Salaipeth, Hajime Yaegashi, Atsuko Sasaki, Tsutae Ito, Nobuhiro Suzuki