Emergence of multiple clade 2.3.2.1 influenza A (H5N1) virus subgroups in Vietnam and detection of novel reassortants
Read the full article on ScienceDirect.
Despite significant efforts to limit the spread of highly pathogenic avian influenza A (H5N1) virus in Vietnam, the virus continues to circulate in poultry throughout the country, resulting in outbreaks with often dramatic economic losses to many stakeholders. Close contact between infected birds and humans also results in sporadic human infection, which in many cases has led to fatal disease.
In 2004, an influenza surveillance program was initiated in Vietnam by the Department of Animal Health (DAH), the National Centre for Veterinary Diagnostics and regional DAH laboratories. This program has been instrumental in the identification and characterization of H5N1 viruses present in Vietnam, which, in turn, has led to extensive control measures, including mass depopulation of infected flocks and vaccination of poultry.
The rapid evolution of co-circulating H5N1 viruses into new genetic groups with distinct antigenic properties, however, has made implementation of such programs challenging. Our report presents the most recent genetic characterization of H5N1 influenza viruses circulating in Vietnam. The study found that multiple viral lineages continue to co-circulate in many regions of the country. Clade 2.3.2.1 H5N1 viruses, in particular, have evolved into 3 different genetic groups. The spread of these groups corresponded to the detection of novel reassortant viruses that had not been detected previously in Vietnam or elsewhere.
Future studies will aim to understand the significance of these genetic variants on the efficacy of poultry vaccines and whether or not the recent evolution of the virus has led to increased risk to either poultry and/or humans.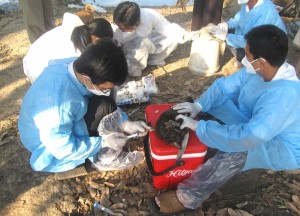 Introducing the author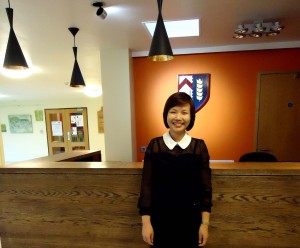 Diep Nguyen Thi
National Centre for Veterinary Diagnostics, Department of Animal Health, Hanoi, Vietnam
About the research
Emergence of multiple clade 2.3.2.1 influenza A (H5N1) virus subgroups in Vietnam and detection of novel reassortants
Virology, Volume 444, Issue 1-2, September 2013, Pages 12-20
Adrian Creanga, Diep Thi Nguyen, Nancy Gerloff, Hoa Thi Do, Amanda Balish, Hoang Dang Nguyen, Yunho Jang, Vui Thi Dam, Sharmi Thor, Joyce Jones, Natosha Simpson, Bo Shu, Shannon Emery, LaShondra Berman, Ha T. Nguyen, Juliet E. Bryant, Steve Lindstrom, Alexander Klimov, Ruben O. Donis, C.Todd Davis, Tung Nguyen