A novel endogenous betaretrovirus group characterized from polar bears (Ursus maritimus) and giant pandas (Ailuropoda melanoleuca)
Read the full article on ScienceDirect.
In the process of investigating the deaths from presumable viral encephalitis in two polar bears (Ursus maritimus), Knut of the Berlin Zoological Garden and Jerka of the Zoological Garden Wuppertal, we generated high-throughput sequencing data from RNA from the brain and liver of both animals.
Upon analyzing the data for sequences related to pathogens, we identified sequences highly similar to human endogenous retroviruses (HERVs) of the HERV-K supergroup, and to a mouse mammary tumor virus (MMTV) like endogenous retroviruses group. Numerous related endogenous retrovirus sequences were identified in genomes of both the polar bear and giant panda (Ailuropoda melanoleuca). The UmaERV and AmeERV termed sequences represent an evolutionarily old endogenous retroviral group that invaded the genomes of those bear species' ancestor(s) more than 40 million years ago but not the genomes of other carnivores such as the dog and cat. Further sequence analysis demonstrated closer evolutionary relationships of UmaERV and AmeERV sequences with several newly described ERVs in bats and cattle, thus also putting human-associated HERV groups in a much wider context of retrovirus evolution.
Our data thus suggest that MMTV-like retroviruses were highly active long ago, invading the genomes of multiple distinct orders of mammals. Our analysis represents another example of ERVs as fossilized retroviral sequences providing a great deal of information for resolving the evolution of retroviruses, which species they once targeted, and which genomes they invaded over millions of years.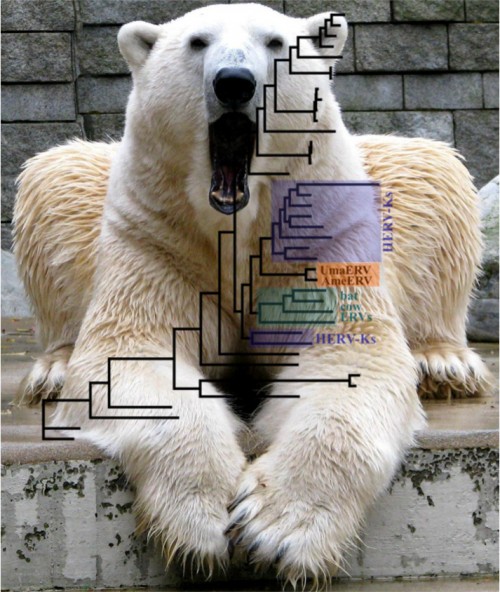 Introducing the authors


Co-first authors Jens Mayer (University of Saarland, Germany) and Kyriakos Tsangaras (Leibniz-Institute for Zoo and Wildlife Research Berlin, Germany) are shown in the left and middle photographs respectively. Corresponding author Alex Greenwood (Leibniz-Institute for Zoo and Wildlife Research) is pictured (photo courtesy of Juliane Seet) on the right.
About the research
A novel endogenous betaretrovirus group characterized from polar bears (Ursus maritimus) and giant pandas (Ailuropoda melanoleuca) – free access
Virology, Volume 443, Issue 1, date 2013, Pages 1-10
Jens Mayer, Kyriakos Tsangaras, Felix Heeger, María Ávila-Arcos, Mark D. Stenglein, Wei Chen, Wei Sun, Camila J. Mazzoni, Nikolaus Osterrieder, Alex D. Greenwood