Complementation for an essential ancillary non-structural protein function across parvovirus genera
Read the full article on ScienceDirect.
Parvoviruses have a small (5kb) single-stranded DNA genome that is almost entirely devoted to the expression of two essential genes; one encoding a rolling-hairpin replication initiator protein with HuH nickase and SF3 AAA+ helicase functions, and a second encoding the viral capsid. Despite this genetic parsimony, viruses in most genera of the Parvovirinae replicate 'autonomously', meaning without the need for a helper virus, relying instead on support from just one or two small ancillary proteins that differ between genera in sequence and in location within the genome.
Within the genus Protoparvovirus, minute virus of mice (MVM) encodes two major isoforms of its ancillary protein NS2, while human bocavirus 1 (HBoV1), in the genus Bocaparvovirus, encodes the ancillary protein NP1. Although NS2 and NP1 are both required for productive replication in cells of their natural host species, they lack detectable sequence homology and exhibit very different expression and localization profiles. Since these two viruses face similar challenges in usurping control of their respective hosts, we hypothesized that their ancillary proteins likely exhibit some functional overlap, despite their sequence disparity.
To explore this possibility, we looked for rescue of the MVM NS2 null phenotype in murine A9 cell populations engineered to inducibly express HBoV1 NP1. The first surprise we encountered was that NP1 unexpectedly accumulated in the nucleoli of uninfected mouse cells. During infection, however, this NP1 was recruited from nucleoli into developing MVM nuclear replication foci as they matured. Most strikingly, these replication foci kept growing in NS2-null infected nuclei rather than becoming paralyzed, as occurs when uninduced A9 cells are infected with this mutant. Moreover, when viral DNA replication was quantified in NS2-null infections, we found that it was restored close to wildtype levels by expression of NP1, thus confirming that NP1 can functionally substitute for NS2 in countering antiviral responses that otherwise limit this aspect of viral expansion. In contrast, NP1 expression was not able to counter a defect in capsid synthesis and assembly that also occurs in NS2-null infected cells.
Although unrelated in primary amino acid sequence, both NS2 and NP1 share linear motifs specific for interactions with several cellular effector proteins, including kinases and phosphatases, the nuclear export factor Crm1 and members of the 14-3-3 family. We conclude that these two disparate proteins have evolved separately, but convergently, to support at least one common function essential for successful virus infection.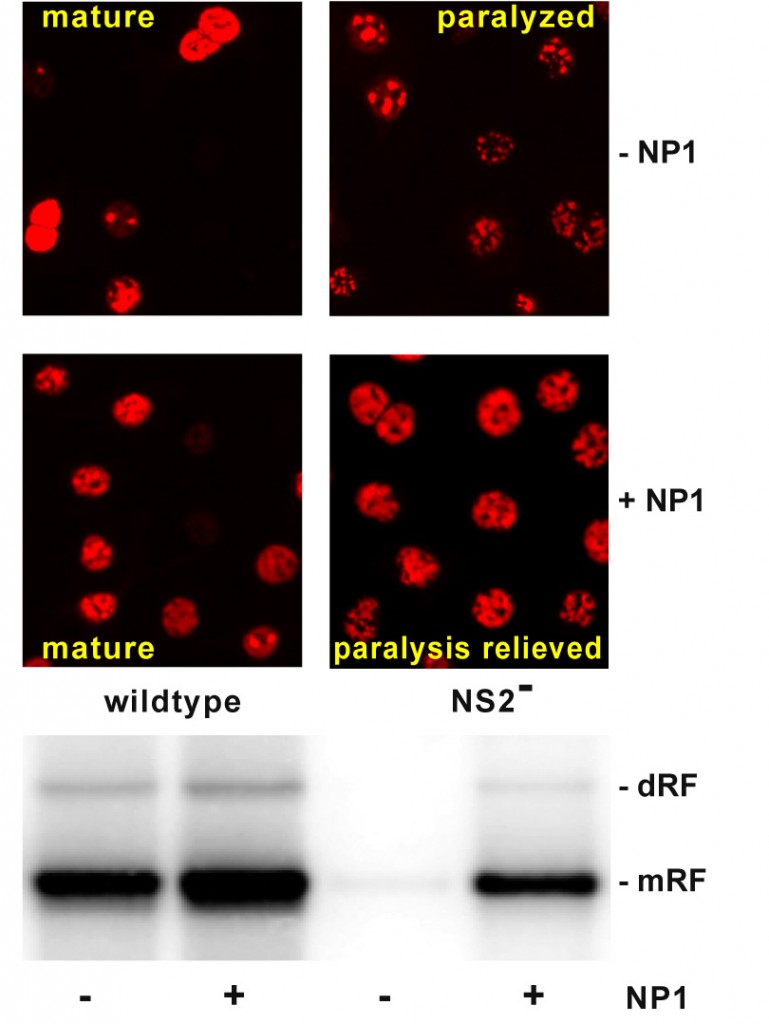 Introducing the authors

About the research
Complementation for an essential ancillary non-structural protein function across parvovirus genera
Virology, Volumes 468–470, November 2014, Pages 226–237
Ivailo S. Mihaylov, Susan F. Cotmore, Peter Tattersall