Orsay virus utilizes ribosomal frameshifting to express a novel protein that is incorporated into virions
Read the full article on ScienceDirect.
Orsay virus is the first identified virus capable of naturally infecting Caenorhabditis elegans. Our recent discovery of Orsay virus along with two other nematode infecting viruses, Santueil and Le Blanc, enables for the first time host-virus interaction studies in the genetically tractable model organism C. elegans.
Although most closely related to nodaviruses, Orsay virus possesses a distinct genome organization with a significantly larger RNA2 segment. Genome prediction through canonical translation revealed an additional ORF in the RNA2 segment that does not share detectable homology to any known protein. As a step towards defining its function, we first sought to define how this ORF is expressed.
From a series of experimental and in silico analyses, we determined that the ORF is translated by a ribosomal frameshifting mechanism to generate a fusion with the capsid. We subsequently demonstrated that the fusion protein is likely incorporated into Orsay virions. While the function of the fusion protein remains cryptic, its presence in virions suggests that it may play a role in viral entry or other early steps of the viral life cycle. The fact that all three nematode viruses appear to encode this unique fusion protein reinforces the importance of this protein. Thus, the Orsay- C.elegans infection model provides a wealth of opportunity to explore novel biology—from the perspectives of both the host and the virus.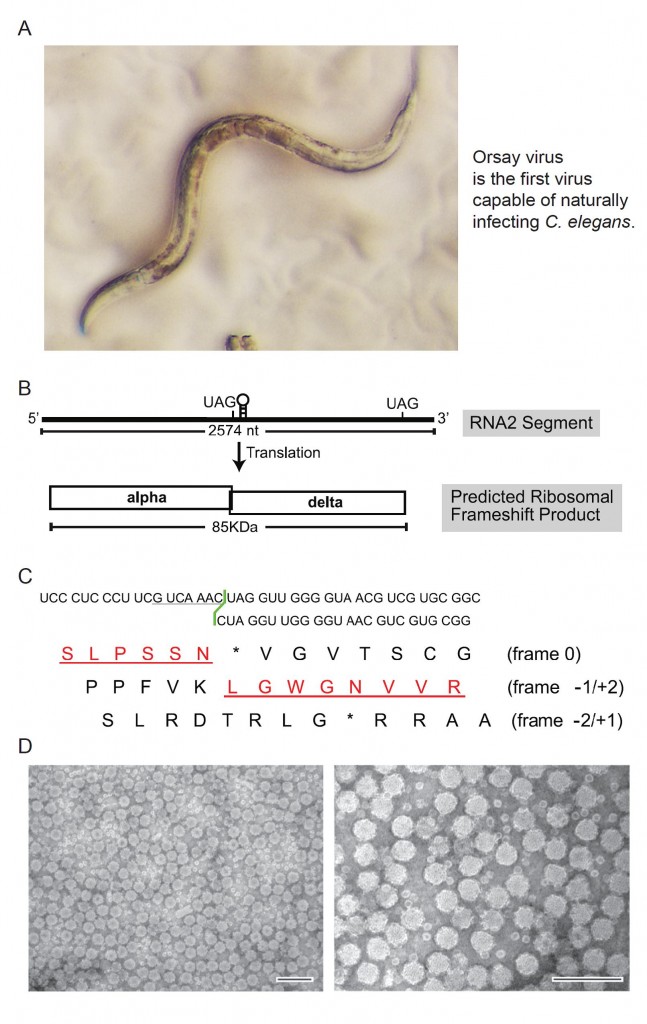 Introducing the authors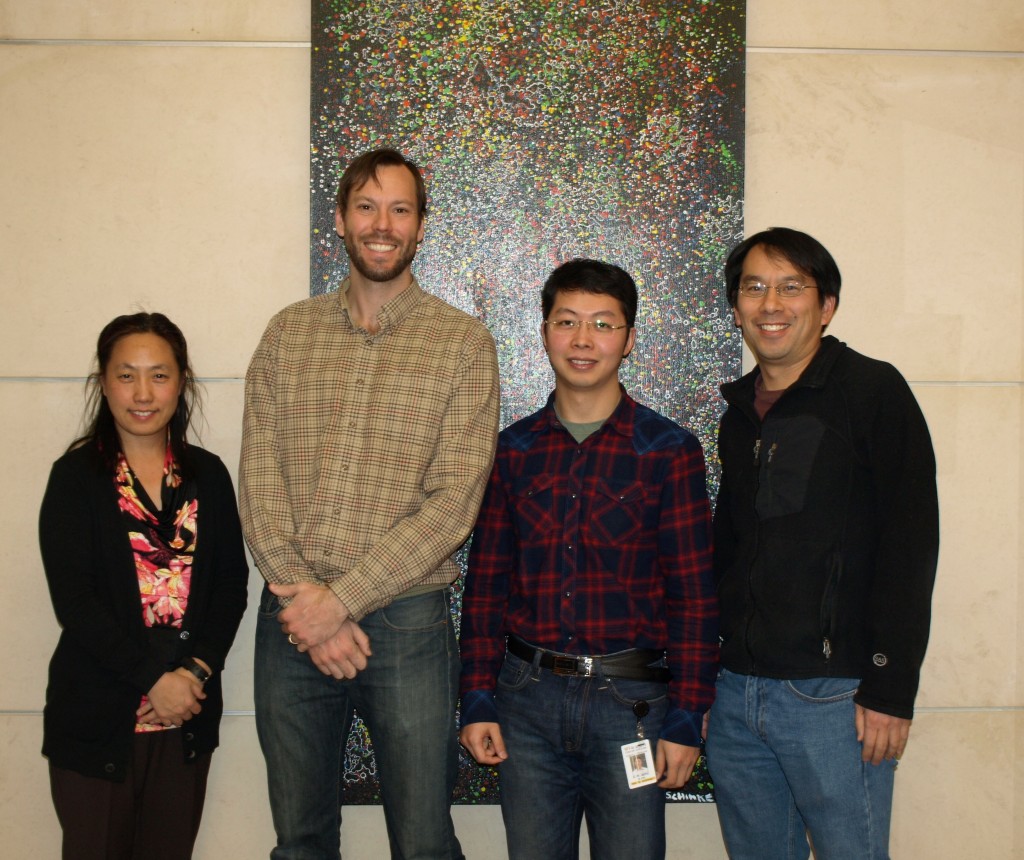 (R-L) David Wang, PhD: Associate Professor of Molecular Microbiology and Pathology&Immunology in Washington University in St. Louis School of Medicine
Hongbing Jiang, PhD: Post-Doctoral Research Associate of Molecular Cell Biology in Washington University in St. Louis School of Medicine
Carl J. Franz, PhD candidate: Graduate Student of Molecular Cellbiology at Washington University in St. Louis School of Medicine
Guoyan Zhao, PhD: Assistant Professor of Pathology&Immunology in Washington University in St. Louis School of Medicine
About the research
Orsay virus utilizes ribosomal frameshifting to express a novel protein that is incorporated into virions
Virology, Volumes 450–451, February 2014, Pages 213–221
Hongbing Jiang, Carl J. Franz, Guang Wu, Hilary Renshaw, Guoyan Zhao, Andrew E. Firth, David Wang