The interplay between ZIKV and IFN-ß
Text by Philippe Desprès and Wildriss Viranaicken
Mosquito-borne Zika virus (ZIKV) has recently gained a medical importance following
the large-scale epidemics in the South Pacific and Latin America. To better
understand the pathogeny of severe ZIKV-related diseases, e.g. congenital
microcephaly and Guillain Barré Syndrome, the study of the cell host response to
ZIKV infection is an absolute prerequisite. Today, there is still a lack of knowledge
concerning the interactions between human cells and ZIKV. The research
laboratories PIMIT and DeTROI in La Reunion island (France) with MIVEGEC in
Montpellier (France) have decided to pursue their efforts on the characterization of
South Pacific epidemic strain of ZIKV in studying the ZIKV permissiveness of human
epithelial cells. Our data demonstrated that epidemic strain of ZIKV isolated in
French Polynesia in 2013 replicates efficiently in A549 cells leading to mitochondrial
apoptosis. Our work points to a role for IFN-β in the efficiency of ZIKV replication in
human epithelial cells.
During the course of the our study, we had been firstly surprised to detect an early
production of soluble IFN-ß in response to ZIKV while viral growth was greatly
efficient in A549 cells. It is possible that the soluble IFN-β acts in a paracrine manner
to protect neighboring cells from viral infection. The second intriguing observation
was that antiviral effect of IFN-ß against ZIKV was markedly diminished once viral
replication has been established in these cells. It is likely that ZIKV evades the type-I
IFN signaling pathway generated by A549 cells as it has been observed with other
flaviviruses such as West Nile and dengue viruses. Another implication of our work is
a possible role for IFN-ß in late induction of apoptosis in A549 cells infected by ZIKV.
While we have not been able to demonstrate a direct causal relationship between the
early release of IFN-ß and the late apoptosis, we postulate that epidemic ZIKV
strains developed a circumvent strategy in which released IFN-ß could act in a
autocrine manner to delay activation of apoptotic pathway before the virus progeny
production reaching a plateau.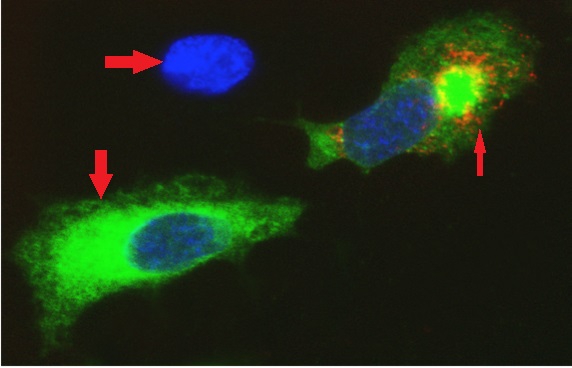 Figure Legend

Immunostaining of A549 cells infected by ZIKV and ZIKV-infected cells in apoptotic state (Bax +). Arrows: viral antigen (green); Bax (red); nucleus (blue).
Introducing the authors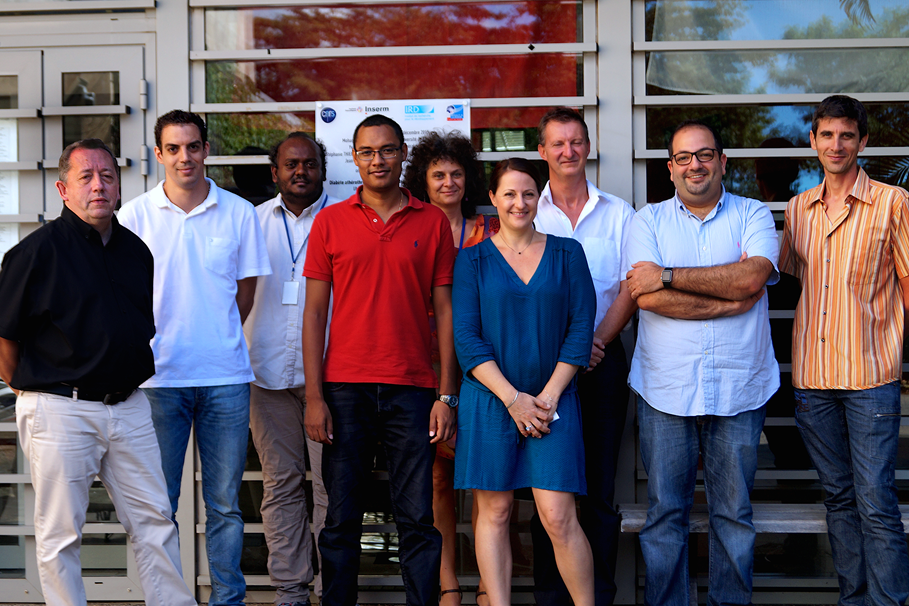 Pictured from left to right: Philippe Desprès, Brice Navitel (DeTroi), Wildriss Viranaicken, Etienne Frumence, Pascale Krejbich-Trotot, Marjolaine Roche, Philippe Rondeau, (DeTroi), Chaker El-Kalamouni, Gilles Gadea
About the research
Etienne Frumence, Marjolaine Roche, Pascale Krejbich-Trotot, Chaker El-Kalamouni, Brice Nativel, Philippe Rondeau, Dorothée Missé, Gilles Gadea, Wildriss Viranaicken, Philippe Desprès
Virology, Volume 493, June 2016, Pages 217–226