The p33 auxiliary replicase protein of Cucumber necrosis virus targets peroxisomes and infection induces de novo peroxisome formation from the endoplasmic reticulum
Read the full article on ScienceDirect.
Viruses replicate on intracellular membranes of the host and most often induce proliferation as well as remodelling of host membranes. Cucumber necrosis virus is a plus-strand RNA virus that has been found to replicate in association with peroxisomes resulting in the formation of multivesicular bodies. Interestingly, inoculation of 16C transgenic plants containing GFP-labeled endoplasmic reticulum (ER) membranes shows that CNV induces the formation of new peroxisomes from pre-existing ER giving rise to GFP-labeled peroxisomes.
It is known that one route for the formation of new peroxisomes is from the ER. We have found that CNV stimulates this process perhaps as a means for providing additional membrane for viral RNA replication. We also found that the CNV auxiliary replicase protein p33 efficiently targets peroxisomes and induces necrosis in agroinfiltrated plants. Increased levels of peroxide were found in CNV infected plants as well as in p33 agroinfiltrated plants. As peroxisomes are a site for peroxide catabolism, it is possible that necrosis results from partially dysfunctional peroxisomes. In addition, the de novo generation of new peroxisomes may be a response of the plant to high levels of peroxide induced by virus infection. Further experiments are required to verify these hypotheses.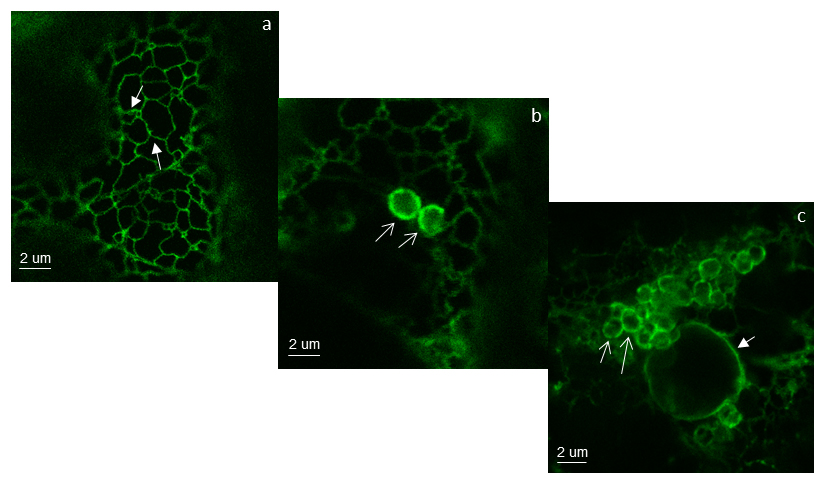 Introducing the authors

Jane Theilmann, Kankana Ghoshal, Ron Reade, Ajay Maghodia, Syed Benazir Alam, D'Ann Rochon
About the research
The p33 auxiliary replicase protein of Cucumber necrosis virus targets peroxisomes and infection induces de novo peroxisome formation from the endoplasmic reticulum
Virology, Volumes 452–453, March 2014, Pages 133–142
D'Ann Rochon, Bhavana Singh, Ron Reade, Jane Theilmann, Kankana Ghoshal, Syed Benazir Alam, Ajay Maghodia