Recapitulation of the hepatitis C virus life-cycle in engineered murine cell lines
Read the full article on ScienceDirect.
At least 150 million people globally are persistently infected with hepatitis C virus (HCV). Chronic carriers are at risk of developing severe liver disease including fibrosis, cirrhosis and liver cancer. Currently approved drugs are only partially effective and treatment is frequently accompanied with considerable side effects. A vaccine preventing HCV infection or curing an established infection does not exist. Development of more effective therapies and progress in our understanding of HCV biology has been delayed by a lack of a suitable animal model for HCV infection. HCV as a narrow host range limited to infection of humans and chimpanzees. Chimpanzees have been instrumental in the discovery of HCV and the characterization of the course of HCV infection. However, use of large apes for biomedical research is constraint by challenging logistics, high costs and ethical concerns, which creates a pressing need for alternative model systems.
The host tropism of HCV is incompletely understood. We show that antiviral signaling interferes with HCV RNA replication in mouse cells. We were able to infect mouse cells expressing human CD81 and occludin (OCLN) – the minimal set of entry factor factors required for HCV uptake into mouse cells. Infected mouse cells sustain HCV RNA replication in the presence of the microRNA 122 and release infectious particles when mouse apolipoprotein E is supplied. Our data demonstrate that the barriers of HCV interspecies transmission can be overcome by engineering a suitable cellular environment and provide a blue-print towards constructing a mouse animal model for HCV infection.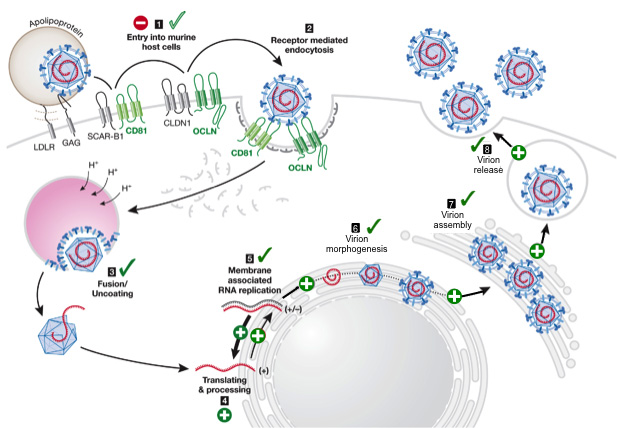 Introducing the authors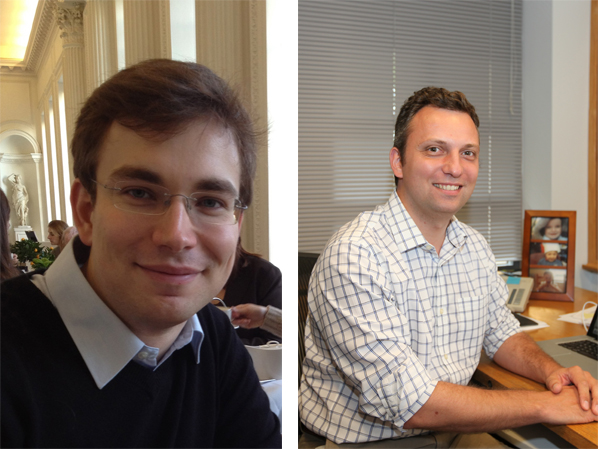 First author Alexander Vogt (North West London Hospitals NHS Trust, London, United Kingdom) on the left and corresponding author Alexander Ploss (Department of Molecular Biology, Princeton University, Princeton, NJ, USA) on the right.
About the research
Recapitulation of the hepatitis C virus life-cycle in engineered murine cell lines
Virology, Volume 444, Issue 1-2, September 2013, Pages 1-11
Alexander Vogt, Margaret A. Scull, Tamar Friling, Joshua A. Horwitz, Bridget M. Donovan,  Marcus Dorner, Gisa Gerold, Rachael N. Labitt, Charles M. Rice, Alexander Ploss